When designing a residential or commercial interior, the ceiling is often the forgotten space that gets the short stick of the budget. While a large part of the planning and resources is spent on wall and floor treatments, the ceiling often ends up painted over and considered done. However, a unique ceiling with body, architectural interest and a few singular touches can entirely transform a space. Here is the solution found by Sabbagh Arquitectos for the Entel corporate office building in Santiago de Chile, that used atypical ceiling materials to create a cool and modern vibe.
Photo via retaildesignblog.net
The painted metal ceiling is made of Aluphant perforated aluminum panels.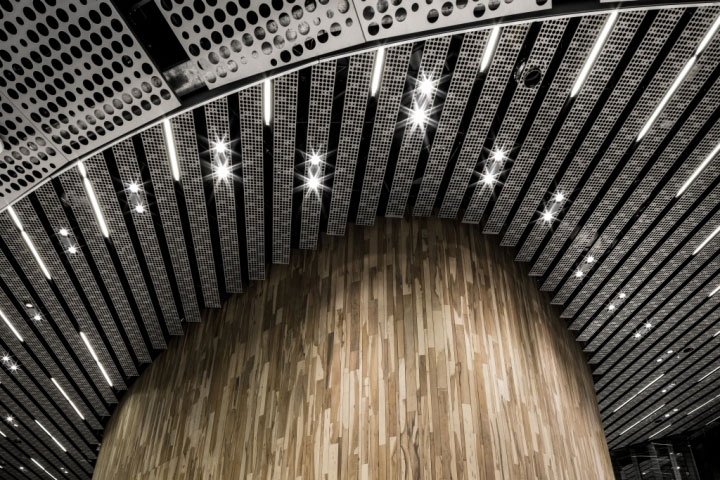 Photo via retaildesignblog.net
The designers wanted to achieve a look that would be spectacular both during the day and at night. Metal fit the bill, giving the ceiling a modern, unconventional flair, so they chose Aluphant's PURE Bright Brushed transparent coating to emphasize the beauty of the metal.
Photo via retaildesignblog.net
Another example of an atypical solution when it comes to ceiling materials offers a visually interesting method of dressing it up while encasing the light in three-dimensional structures. W&W is such a light system, designed by Pool and manufactured by Alter, both based in Paris. Perfect for large commercial spaces with dropped ceilings, W&W creates a geometric landscape that completely changes the appearance of the mundane office ceiling.
Photo courtesy of Pool
The modules are made of metal and PMMA and can be used to completely recreate the shape of the ceiling or add small areas of architectural interest to the existing ones.
Photo courtesy of Pool
Via retaildesignblog.net (PURE metal ceiling, W&W)
All photos via retaildesignblog.net
Please take a look at our Before and After images of selected projects from 2015 HERE.
If you are thinking to open up a new business or in a process of rebranding and remodeling your existing business, contact us to get a free consultation from Mindful Design Consulting. Click HERE to price your project design.

Also, take a look at "Branding By Interior" e-book, the only book written on this subject at this time. It brings insight on how you can turn your business into a market-dominating competitor by using human cognitive responses.
https://mindfuldesignconsulting.com/wp-content/uploads/2016/07/White-Dropped-Ceiling-Office-Design.jpg
540
720
M T
https://mindfuldesignconsulting.com/wp-content/uploads/2015/07/mindful-design-consulting-logo.png
M T
2016-07-09 22:13:15
2022-07-06 11:18:25
Beyond the Drywall – Metal and Acrylic Glass as Ceiling Materials