Interior designer company Dear designed the new Nino shoe store in Barcelona. Even from the outside, clean lines and upgraded materials make it clear that this is a swanky shop that caters to an upscale clientele.
The store designer only had a small space to work with, 25 square meters (270 sf), but was able to make it feel open and clean yet cozy and intimate at the same time by allowing easy movement within the store. There is no large, bulky furniture or awkward angles to navigate. It has a very contemporary, clean style in order to showcase the beautiful shoes and purses instead of competing with them. This is the mark of a skilled store interior designer. The corner location of the store allows welcoming light to come into both windows, making the space feel larger.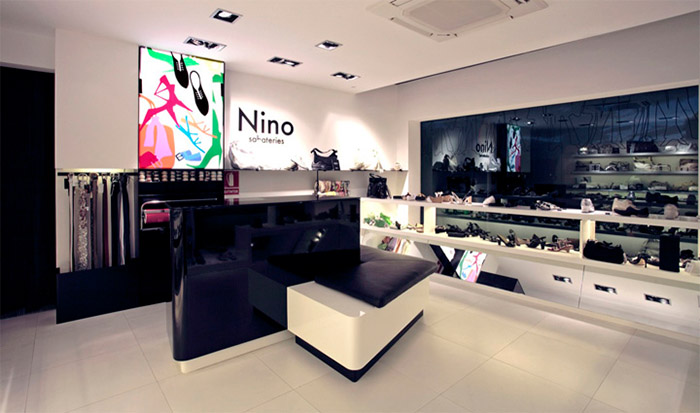 Glass and onyx were used in the design of the store. This allows passersby to see all the available wares which will entice them to enter and look around. Recessed lighting in the walls showcase the purses and shoes; highlighting the walls and shelves where they are carefully placed. The only furniture (besides the glossy shelves and counter) is the contemporary black and white bench where shoppers can try on shoes. The mirrors on the bottoms of the shelves serve dual purposes of assisting the clients as well as reflecting the gleaming surfaces of the shop.
Store interior design plays a major role in attracting customers, and this interior designer has achieved the goal with the new Nino Barcelona.
To ask us questions about your commercial interior design project or to get a free consultation from Mindful Design Consulting, click HERE.
Also, take a look at "Branding By Interior" e-book, the only book written on this subject at this time.  It brings insight on how you can turn your business into a market-dominating competitor by using human cognitive responses.
https://mindfuldesignconsulting.com/wp-content/uploads/2015/07/mindful-design-consulting-logo.png
0
0
Administrator
https://mindfuldesignconsulting.com/wp-content/uploads/2015/07/mindful-design-consulting-logo.png
Administrator
2014-03-11 11:56:16
2014-03-11 11:56:16
Chic New Shoe Store Design in Barcelona – Commercial Interior Design News