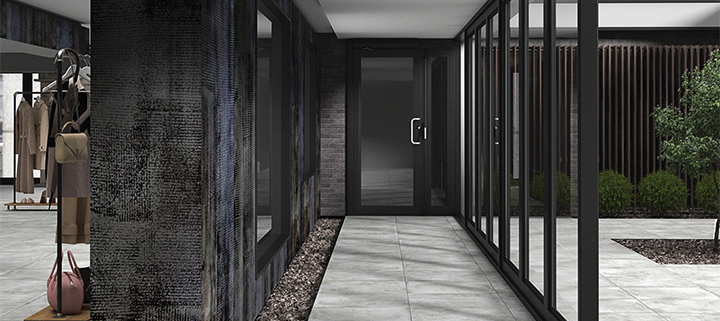 Despite their humble name, concrete pavers may surprise you with their excellent ability to completely change the look of the outdoor or indoor areas of your business. As an affordable solution that is more sophisticated than poured concrete, they bring in some pattern, a clean look and a maintenance-free solution for all your high-traffic areas, without breaking the bank. If you are looking for inspiration, here are a few concrete paver applications in commercial design, plus a few of our favorite concrete tiles.
Photo above: Grey Nominee™ Concrete Pavers from Daltile's TREAD™ collection
A restaurant terrace is the perfect candidate for concrete pavers. The clean geometry imposed by the lines of simple squares gives the space a sharp modern look. When the pattern is repeated in the contour of other elements of design such as flower beds, furniture or an outdoor fireplace, the visual effect is complete.
Grey Nominee™ Concrete Pavers from Daltile's TREAD™ collection
Gravel is an excellent companion for concrete pavers. While it emphasizes their shape, it provides less contrast and a less busy look. The chromatic and textural similarity of the two materials makes the combination relaxing to the eye. Because of the neutral tones, any green plant placed against this background is emphasized by contrast.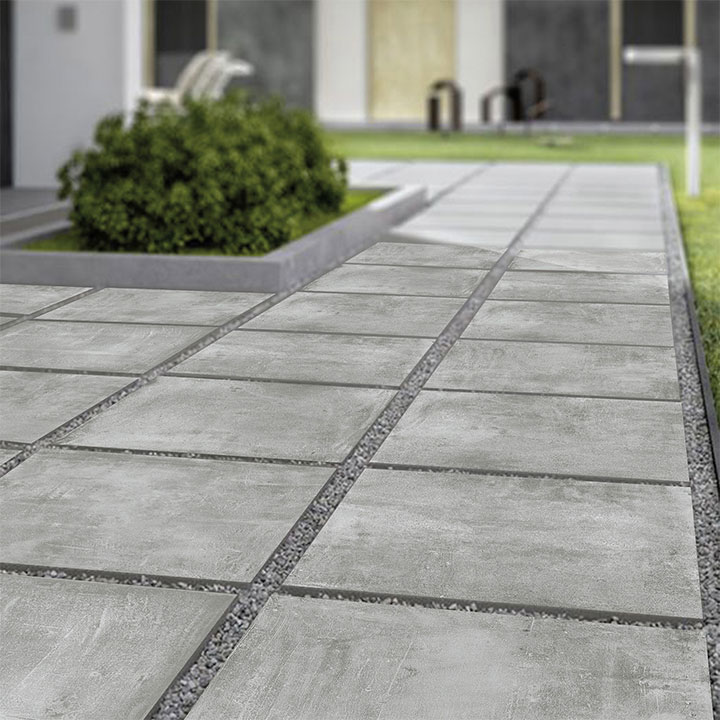 Grey Nominee™ Concrete Pavers from Daltile's TREAD™ collection
Even though they are generally considered an outdoor material, do not ignore the great potential of concrete paver indoor applications. Concrete tiles or pavers can be used in any space where other types of tile look appropriate, such as kitchens, bathrooms or hallways, but main areas can also benefit from their rustic vibe. You do not have to limit yourself to the classic square shape or gray color. The tiles come in a surprising number of shapes, patterns and chromatic variations and can help you mimic the look of exotic places, such as Tucan villas or Spanish haciendas.
Photo: Picket Charcoal Gray Tile. Via ARTO
Don't forget the vertical spaces that offer you a great opportunity to showcase some stunning concrete tiles and to take your design up a notch. Patterned concrete tiles give you the weight, color, patterns and natural look, all at the same time, which is hard to achieve with other materials.
Photo: Artillo Diamonds. Via ARTO
If you decide to use concrete tiles for your indoor or outdoor commercial space, you can choose from styles as varied as triangular, diamond-shaped or trellis-patterned tiles, to name just a few options. ARTO, the California-based manufacturer of ceramic and concrete products offers, for instance, tiles in attractive shapes such as Conche, Pata Grande and Eye of Felipe. By using these tile patterns you can obtain the same rich effect that you would otherwise achieve by using a patterned rug, but without the maintenance.
Artillo San Felipe Charcoal Gray and Artillo Conche Charcoal Gray Concrete Tiles from ARTO
For a sun-burned look reminiscent of Southern warmth, use red-tinted tiles. While gray-toned ones may look cold, the deep color of these tiles instantly give your home the sunny and inviting look of a vacation home.
Artillo Picket Set Mission Red and San Felipe Josie Blend Concrete Tiles from ARTO
For a more artistic effect, the small ornamental details of these hand-painted tiles add to their rich colors, more intricate patterns and great decorative potential. When used in just a few areas, such as the stairs or an accent wall, they bring these elements into the spotlight. Even a few tiles can fully change the look of a fireplace or a counter.
Octagon Charley Brown and Tuscan Mustard Concrete Tiles with Handpainted Deco from ARTO
A multi-tone combination or a multi-colored mix can make the floor pop. Combined with a more subtle type of furniture and accents, these gorgeous concrete paver applications become the focal point of your space and may be all you need to make it truly unique.
Artillo Arabesque Montage Grays Vintage and Boutique Board Arabesque Winslet Blend Concrete Tiles from ARTO
If you are thinking to open a new business or are in the process of rebranding and remodeling your existing business, contact us to get a free consultation from Mindful Design Consulting. Click HERE to price your project design.
Also, take a look at the "Branding By Interior" e-book, the only book written on this subject at this time. It brings insight into how you can turn your business into a market-dominating competitor by using human cognitive responses.
https://mindfuldesignconsulting.com/wp-content/uploads/2022/05/Using-Concrete-Pavers-for-Outdoor-Design.jpg
627
720
M T
https://mindfuldesignconsulting.com/wp-content/uploads/2015/07/mindful-design-consulting-logo.png
M T
2022-05-11 21:49:19
2022-05-11 22:08:47
Concrete Paver Applications in Indoor and Outdoor Design