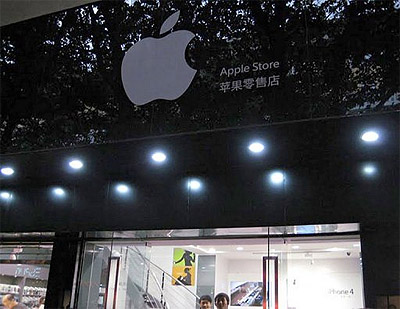 Did you read the news on how a few fake Apple stores were busted in China recently? What fascinated me the most that the fist sign of a fake store was their poorly done interior! Yes, everything looked almost identical, the name tags on employees' necks, Apple' s classic look was even in place, BUT… "some things were just not right: the stairs were poorly made. The walls hadn't been painted properly. Apple never writes 'Apple Store' on its signs – it just puts up the glowing, iconic fruit." Do you ever think about what differentiates you from a leader in your industry?
Photo Credit.
Yesterday I went to a new yogurt shop location in Kerny Mesa, (San Diego) and another cheaply done interior example was unveiled.  The store is only 2 years old but the place is falling a part already.  The wild mismatching colors of paint on walls are already peeling off, especially in places where tile would be a much preferred material, like around the serving machines. The laminated flooring, which was probably bought on sale, started coming off in some places creating a walking hazard.  But the focal point of it all was the lighting, which was probably designed by a contractor, was so bad that the owner had to replace it with much larger light bulbs to illuminate the space.  The bulbs are sticking out of the sockets like an eyesore now finishing the overall neglected look of the place.  How long do you think this place will be successful for?
From a designer, here are some suggestions on keeping your space like a real business with some class and respect for your customers:
Have a professional designer help you to select your colors and materials. You do not have to hire a designer to do your overall project but at least most critical elements would help your space look better.
Do not buy materials, furniture or any other elements for your space just because there is a huge sale.  (Unless that is the style you are going for… ) If you are going for that clean classy style, cheap stuff is not going to trick anyone.
Remember the first rule of thumb, the cheaper you buy it now, the more expensive the maintenance will be.  If you painted that wall in your cafe instead of installing tile, try to at least paint it once a year.
Lighting is VERY important in any space! Consult a professional on different lighting options before trusting your contractor. I personally have seen how contractors install left overs from previous jobs on new jobs where such light fixtures do not go well.
If you would like to learn more on the subject of how to make your store look more professional and branded, take a look at this book: Branding by Interior.
Also, check out some 2011 Interior Design Trends HERE.
https://mindfuldesignconsulting.com/wp-content/uploads/2015/07/mindful-design-consulting-logo.png
0
0
Administrator
https://mindfuldesignconsulting.com/wp-content/uploads/2015/07/mindful-design-consulting-logo.png
Administrator
2011-07-22 16:21:55
2011-07-25 19:43:27
How to Show Your Real Brand – Fake Apple Stores in China Lessons Learned