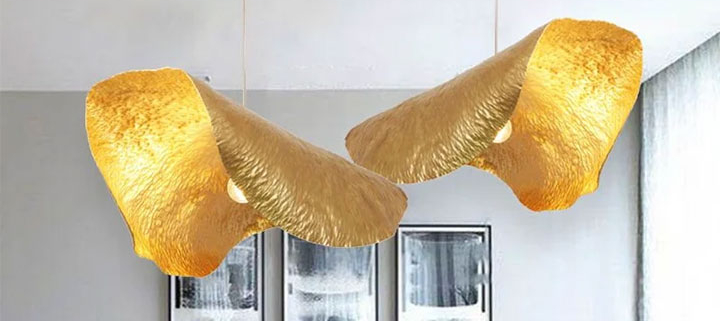 There are few things more important in a commercial space than the way you use lighting to create a certain mood and influence your customers' behavior. But considering just the utilitarian role of your lamps, pendants, sconces and chandeliers is a mistake. Creative lighting and ingenious pieces can completely change the look of your interior and can do the talking when it comes to your taste, character and attention to detail.
Photo above: Hammered Brass Ceiling Lights by StoreHandmad on Etsy
Consider, for example, how this space would look without its unique lighting. Even though it would retain its elegance, the grandeur given by their artistic Spiro lights would disappear. Inspired by optical art, each pendants is a collection of irregular wood-veneer spirals that shape the light and add weight and dimmension to the ceiling.
Spiro lights by Remedios Simon via LZF
So here are a few other examples of light fixtures that can tranform your space. Reminiscent of the look of marine creatures floating on the surface of the ocean, or that of a dancer's flowing dress, this edge-lit chandelier descends gracefully from the ceiling. Achieving the illusion of movement is one way to create interest with light pieces.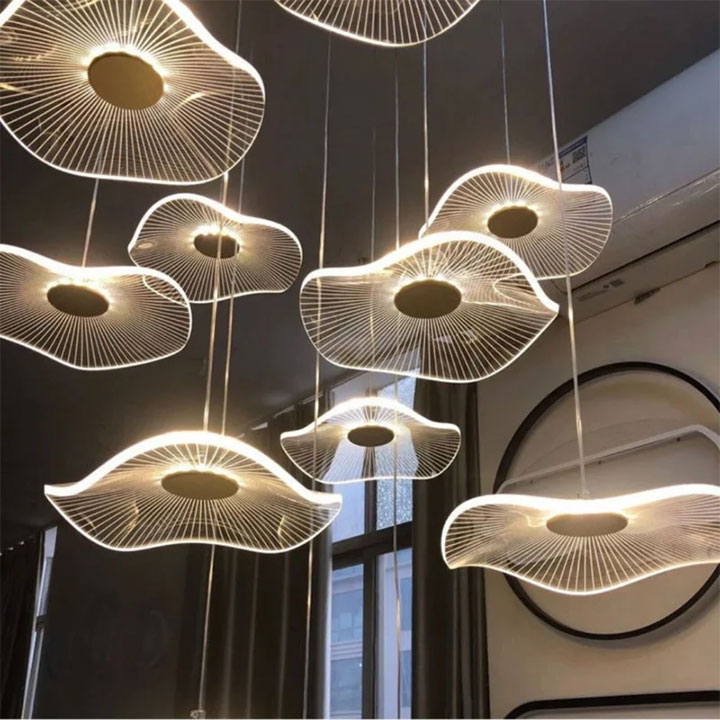 Chirley 16 Light Dimmable Tiered Chandelier by Mercer41 on Wayfair
The same illusion is created by this LED chandelier, inspired by the rapid movement of mercury. It succeeds in capturing the flow of the liquid metal, its light reflections and its unique consistency.
Mercury LED Chandelier by Ross Lovegrove and Artemide on Wayfair
Simplicity is often the surest path to elegance. This North pendant light combines two discs into an abstract shape that evokes images of lunar phases. Its construction redirects the light and gives it a softer character.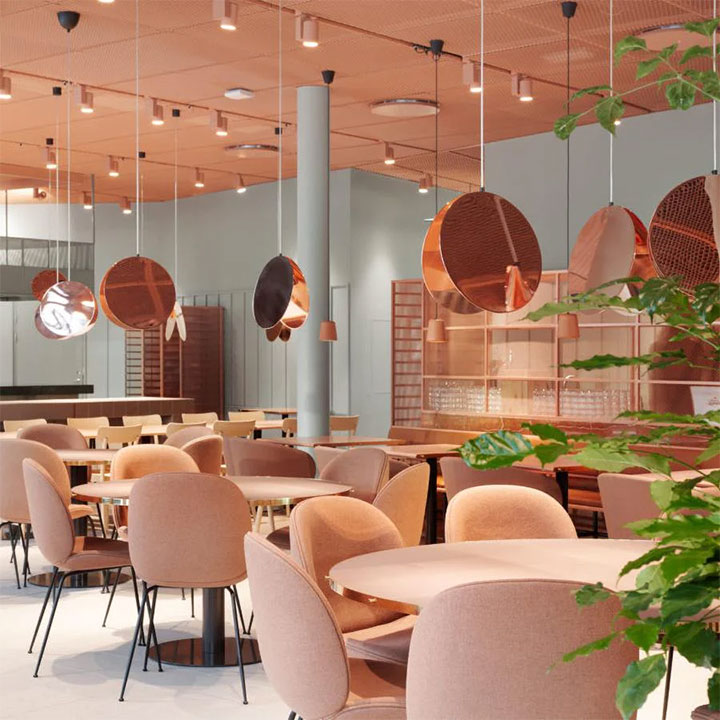 North Pendant Light from Vakkerlight
In a space full or angles and hard textures, organic shapes can satisfy the need for a natural look. The curved shape of the Nula pendant light combined with its irregular texture offers a pleasant escape from the severity of contemporary spaces.
Nula Pendant Light from Metavaya
Based on the same concept, Dunia looks as if it has been shaped by the waters of a river. Minimalist, spa-like spaces in particular can take advantage of the beauty of such a piece.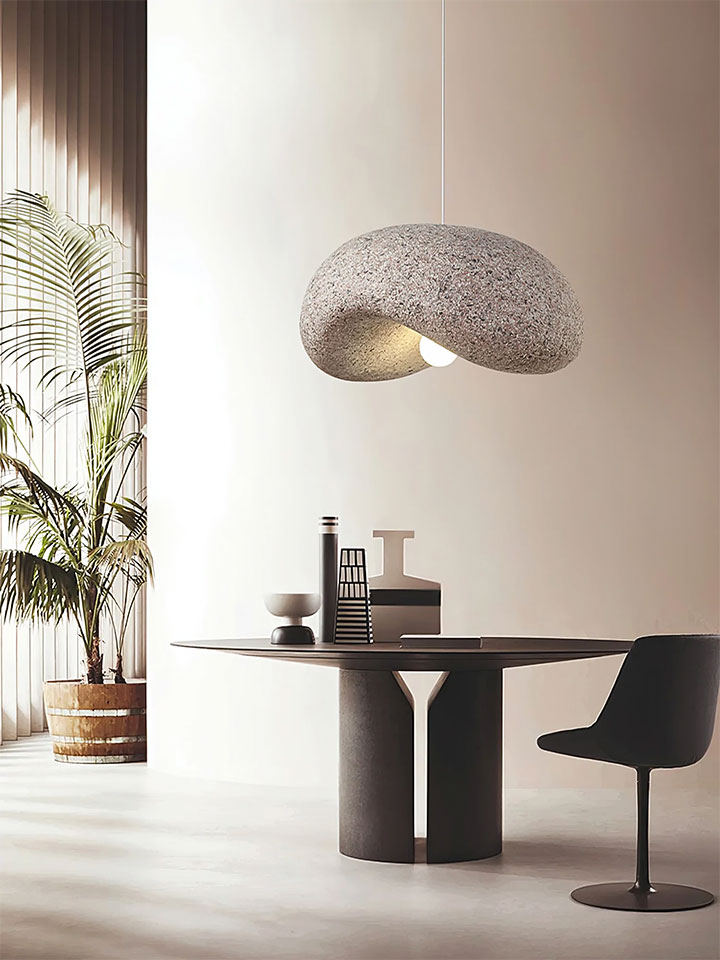 Dunia Speckled Pendant Lamp from Vakkerlight
Unique lighting is not necessarily showy, nor does it have to steal the show. It can remain simple and elegant, yet add something unexpected to a space.
Bola Disc Pendant Lamp from Metavaya
In terms of materials, both hammered metal and brass tones remain strong as interior design trends. They are even more dramatic when captured into unconvetional shapes.
Hammered Brass Pendant Chandelier by Lighting Boho on Etsy
Such pieces are striking in intimate settings, especially when set against darker backgrounds. They sometimes take organic shapes and become the focal point of the room, well worthy of contemplating. Depending on their particular construction, they can create islands of light and a sense of luxury given by their rich metallic reflections.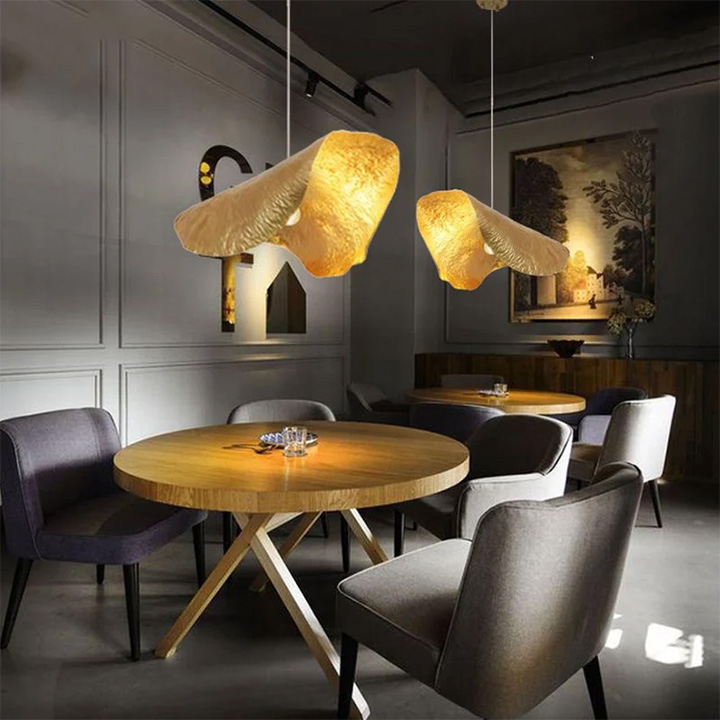 Hammered Brass Ceiling Lights by StoreHandmad on Etsy
Any space that wants to come across as casual and relaxing can benefit from the serene vibes of bamboo pieces. Malleable and forgiving, bamboo can serve as a material for creative lighting such as this gorgeous floral-shaped chandelier that brings to mind the cooling blades of a fan.
Chinese-style Bamboo Chandelier by LabPiece on Etsy
Bamboo has the appealing advantage of bringing in a sense of lightness and elegance, especially when woven into wavy shapes.
Bamboo Pendant Light by Vietmade Home Art on Etsy
Such creative lighting suits well an informal restaurant, especially one with an oriental theme.
Bamboo Weaving Pendant Light by Trending Home Decors on Etsy
If you are thinking to open a new business or are in the process of rebranding and remodeling your existing business, contact us to get a free consultation from Mindful Design Consulting. Click HERE to price your project design.
Also, take a look at the "Branding By Interior" e-book, the only book written on this subject at this time. It brings insight into how you can turn your business into a market-dominating competitor by using human cognitive responses.
https://mindfuldesignconsulting.com/wp-content/uploads/2023/01/Hammered-Metal-Pendants-Elegant-Interior-Design.jpg
400
720
M T
https://mindfuldesignconsulting.com/wp-content/uploads/2015/07/mindful-design-consulting-logo.png
M T
2023-01-18 18:43:59
2023-01-18 18:43:59
How to Transform Your Space With Creative Lighting