Via worldnewsarchitecture.com
Designer: Latitude
All photos: Shannon Fagan via worldnewsarchitecture.com
Grocery shopping should be an experience that differs from product to product. At least this seems to be the idea from which the designers of the Original Life Market started when creating the concept behind this 2,000-sq.m commercial space located in Xindong Road, in the heart of Beijing.

Original Life Market is a space centered around the sale of organic products. While stores do adapt their design to the nature of their products, the Latitude designers improved further on this concept. They shaped each shopping area not only with functionality in mind, but also around the specifics of each category of products. From wooden racks displaying wine products to a flower display that resembles that in a florist's shop, each area is individually created to respond to the unique needs of the products sold. This is the way designers hope to take grocery shopping from a mundane, uninspiring chore to an experience worth having.

The market is an underground space connected to the open square above by way of two escalators above which a glass roof takes full advantage of natural light. Its design retains the idea of a typical grocery store, with shelves, refrigerators and counters, but offers a flexible modular system that responds well to the changes in inventory and product arrangement. By building different types of furniture using the same proportions, both the manufacturing process and the setting up of the space were greatly simplified.

A few elements unify the space, from the furniture made by Latitude using white tubular steel and wood veneer to the airy and coquette light fixtures that give the space a more familiar look. The wood veneer and steel elements are echoed in the construction of the ceiling structure. The floor is covered with hexagonal tiles that flaunt different shades of green while progressing to different shopping areas.

The entrance is designed to attract customers and create a relaxed ambiance with its resting areas and large colorful prints. It is an open invitation into a space designed to connect customers with the products of nature in the middle of a modern city.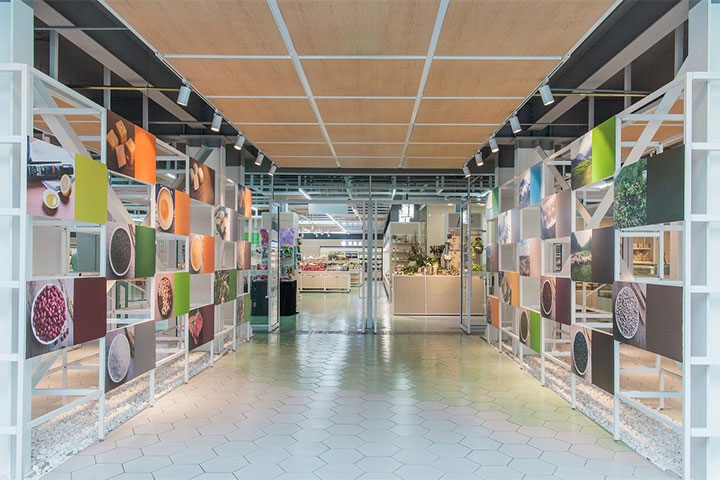 Please take a look at our Before and After images of selected projects from 2015 HERE.
If you are thinking to open up a new business or in a process of rebranding and remodeling your existing business, contact us to get a free consultation from Mindful Design Consulting. Click HERE to price your project design.

Also, take a look at "Branding By Interior" e-book, the only book written on this subject at this time. It brings insight on how you can turn your business into a market-dominating competitor by using human cognitive responses.
https://mindfuldesignconsulting.com/wp-content/uploads/2016/05/Organic-Grocery-Store-Design.jpg
480
720
M T
https://mindfuldesignconsulting.com/wp-content/uploads/2015/07/mindful-design-consulting-logo.png
M T
2016-05-14 18:58:02
2016-05-14 18:58:02
Modular Market Design Offers Beautiful Display of Organic Products