Via retaildesignblog.net (MUT Design SCALES, Buddha Bar scale tiles)
Designers: Alberto Sánchez, MUT Design for SCALES; Giles Miller Studio for Buddha Bar scale tile artwork
All photos via retaildesignblog.net
Interior design artists often find inspiration in nature, yet the results of their creative search are sometimes unexpected. Designed by Alberto Sánchez from MUT Design in partnership with HARMONY, a Peronda brand, the SCALES ceramic tiles are inspired by the smooth, scaly skin of fish and the optical effect of their movement through water.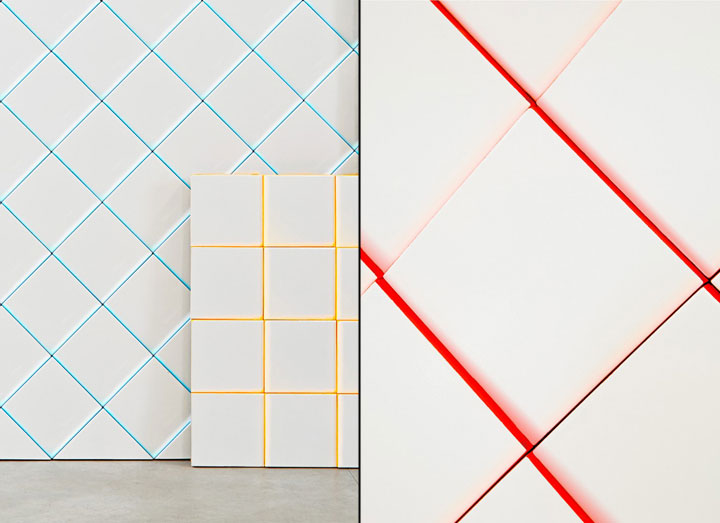 The surface of each tile, descending from one side to the other in a slight slope, takes advantage of this asymmetrical design to capture the color on the side of its neighboring piece. While the SCALES tiles are white, this transfer of color intermediated by light with all its different angles gives the tiles a subtle glow.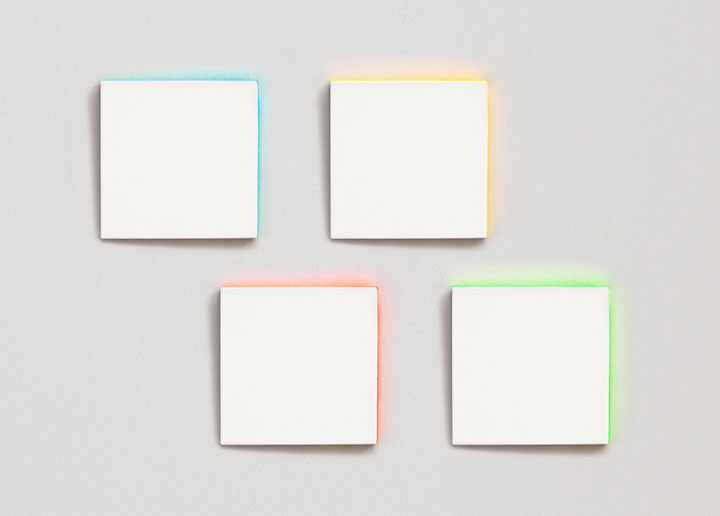 It is a smart way to bring color into a space while keeping it clean and open, and to create a sense of movement and fluidity within the immobility of an interior space.

The same concept was approached by Giles Miller Studio when designing the bar front artwork for Buddha Bar in Dubai. This time, inspiration came from a more fantastic and exotic realm – the shiny, dark scales of dragons' skin.

                                           Photo: Nikolas Margaritis via retaildesignblog.net
Combining a diamond shape and different ceramic finishes, the tiles create the impression of scales covering the body of a massive dragon. The undulating contour of the bar front accentuates the illusion of a moving creature.

                                              Photo: Nikolas Margaritis via retaildesignblog.net
With some of the tiles positioned in an angle, designers created depth and texture, for a more realistic look. Descending from the land of fairy tales into that of interior design, the concept of scales helped create a space that suggests not only luxury, but also movement, magic and life.

                                              Photo: Nikolas Margaritis via retaildesignblog.net
Please take a look at our Before and After images of selected projects from 2015 HERE.
If you are thinking to open up a new business or in a process of rebranding and remodeling your existing business, contact us to get a free consultation from Mindful Design Consulting. Click HERE to price your project design.

Also, take a look at "Branding By Interior" e-book, the only book written on this subject at this time. It brings insight on how you can turn your business into a market-dominating competitor by using human cognitive responses.
https://mindfuldesignconsulting.com/wp-content/uploads/2016/06/Fish-Scale-Ceramic-Tiles-for-Interior-Design.jpg
480
720
M T
https://mindfuldesignconsulting.com/wp-content/uploads/2015/07/mindful-design-consulting-logo.png
M T
2016-06-29 21:39:05
2016-06-29 21:46:16
Fish, Dragons and Tiles – How to Create a Sense of Movement in Interior Design