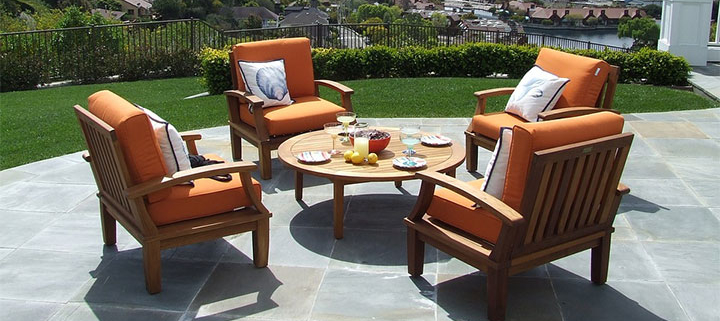 Restaurant outdoor areas such as decks or patios are in high demand when the weather gets warmer. With the right outdoor furniture, they can become an extension of your restaurant's seating area and provide a place for your customers to relax and socialize while enjoying the sun, the fresh air and the views.
When shopping for furniture for your outdoor space, it's important to consider various factors such as materials, functionality, size, comfort and cost. Furnishing your patio or deck can be quite similar to buying tables and chairs for your restaurant's indoor seating area, but there are some additional things to consider.
7-Piece Patio Dining Set from vidaXL
Weather
Before you buy your outdoor dining furniture, it's important to think about the type of weather in your area, and how you are going to protect the furniture. If you are choosing natural wooden furniture, for example, consider how much rain you get, and what you're going to do to keep the furniture from being damaged by the elements during the wetter times of the year. In this case, waterproofing solutions or covers that you can put over the top of your dining sets might be necessary.
2-Piece Acacia Bistro Set from vidaXL
Maintenance and Care
It's also crucial to consider the type of maintenance your furniture is going to need, and if you have the time to do it. There isn't much point in buying stunning and expensive chairs or dining sets if they are only going to be ruined after one winter due to lack of care. Instead, you might want to buy your outdoor chairs cheap and in a low-maintenance material that is easy to care for, like aluminum.
3-Piece Bistro Set from vidaXL
Comfort
Your outdoor furniture's level of comfort has to be in tune with the type of services you offer and the kind of traffic you want to create. Outdoor lounge furniture, enveloping chairs or cushioned seats are perfect choices if you want your customers to linger over dinner and order more. On the other hand, if your goal is a fast turnout where customers keep coming and going in a smooth constant flux, consider stools, benches or simple metal chairs. These work well in places such as ice-cream stores or dessert shops where they offer customers a place to enjoy their treats and move on fast.
7-Piece Patio Bar Set with Cushions from vidaXL
Sizing
Last but not least, it's important to get furniture that is going to fit well in your outdoor space without blocking your access to other areas. Whether you are buying furniture online or in store, it's a good idea to start by taking measurements of the area you need to furnish, so that you can bring in pieces that will be a good fit. It's deceptively easy to miscalculate when estimating how well furniture is going to fit in a space just by looking at it, so measurements will give you peace of mind and help you narrow your options down.
9-Piece Ply Rattan Patio Dining Set from vidaXL
Whether you're buying sturdy outdoor dining sets for your patio seating area or are looking for outdoor lounge furniture, keep these tips in mind to make the best choice for your restaurant.
If you are thinking to open a new business or are in the process of rebranding and remodeling your existing business, contact us to get a free consultation from Mindful Design Consulting. Click HERE to price your project design.
Also, take a look at the "Branding By Interior" e-book, the only book written on this subject at this time. It brings insight into how you can turn your business into a market-dominating competitor by using human cognitive responses.
https://mindfuldesignconsulting.com/wp-content/uploads/2022/08/Patio-Dining-Restaurant-Furnitire-Outdoor-Area.jpg
394
720
M T
https://mindfuldesignconsulting.com/wp-content/uploads/2015/07/mindful-design-consulting-logo.png
M T
2022-08-24 19:44:51
2022-08-24 20:25:44
How to Choose the Right Outdoor Furniture for Your Restaurant