A new kind of wall and floor treatment is gaining terrain in the world of interior design. The impressive leather tiles created by Lapèlle Design are the end result of a long family history that intersects with creativity and innovation in leather treatment. Lapèlle Design is a brand of the Italian company Scamosceria Astico, founded in 1951 and now carrying through a third generation of leather experts. Their innovative interior design materials help reimagine the interiors of both homes and commercial spaces.
The tiles are available in a large variety of colors and textures ready to be combined in the most daring patterns. Made of bovine or full-grain buffalo finished leather, they are designed for ease of application, removal and replacement, without any need for structural work or any damages to the wall or floor. A Velcro-type fixing system and a flexible construction allow for a no-hassle placement on irregular surfaces.
Made in Italy, the lightweight Lapèlle tiles are not only a product able to give creative designers the tools to make a space bold and unique, but have excellent functional properties. The leather is treated to be water and stain-resistant, which makes the tiles a safe choice for high-humidity spaces such as bathrooms. Due to their sound-absorbent qualities, they are suitable for use in spaces such as bedrooms, home theaters, cinemas and other artistic venues.
The use of this unexpected material as a floor and wall treatment is part of its appeal. Natural, luxurious and soft, this is an interior design material as pleasant to the touch as it is to the eye.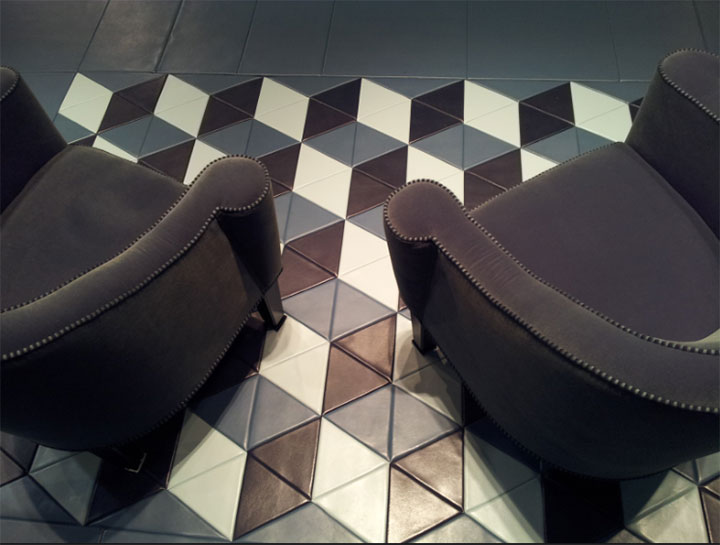 As one of today's emerging innovative interior design materials, Lapèlle tiles are an open door for creativity. Designers interested in the details of production may find in the environmentally-minded process of the company (including a self-sufficient solar power system) another reason to choose its leather tiles .
Via retaildesignblog.net
Designer: Lapèlle Design
All photos: lapelledesign.com
Please take a look at our Before and After images of selected projects from 2015 HERE.
If you are thinking to open up a new business or in a process of rebranding and remodeling your existing business, contact us to get a free consultation from Mindful Design Consulting. Click HERE to price your project design.

Also, take a look at "Branding By Interior" e-book, the only book written on this subject at this time. It brings insight on how you can turn your business into a market-dominating competitor by using human cognitive responses.
https://mindfuldesignconsulting.com/wp-content/uploads/2016/06/Multicolor-Leather-Wall-Tiles-in-Modern-Office-Design.jpg
480
720
M T
https://mindfuldesignconsulting.com/wp-content/uploads/2015/07/mindful-design-consulting-logo.png
M T
2016-06-15 23:07:23
2021-07-21 10:51:23
Innovative Interior Design Materials – Leather Tiles for Walls and Floors