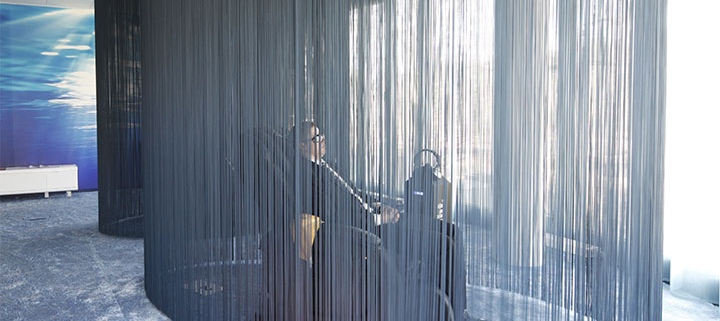 In the typical traditional office design little thought is usually given to creating an inspiring and relaxing ambiance. Instead, function seems to be the only concern. While function remains a crucial part for the easyCredit office in Nuremberg, the professionals from Evolution Design who created this space proved that functionality and warmth are not mutually exclusive, not even when creating the interior of a financial office. In fact, this unconventional office design shows that a creative, appealing space may become part of its very utility by increasing employee mood and well-being.
The easyCredit building was constructed by Nuremberg-based GP Wirth Architekten after the plans of the Austrian architecture firm Baumschlager Eberle. From the very beginning, the design incorporated elements of what was to become an atypical space based on the concept of openness.
While dedicated desks are still a part of the interior design (and great efforts were made to accommodate different working styles), an important part of the 160.000 square feet space was dedicated to areas where formality is dropped, and catered to the creative and social side of human beings. These are driving factors for efficiency and communication, so these distinct areas were seen as an important part of the design.
These informal spaces were created based on a city concept, with its streets, restaurants, parks, places for social encounters and areas for relaxing. The idea had a double benefit. First, they stimulate creativity and concentration, and take into account different work preferences. Second, the city-like design made social (and accidental) encounters between employees more likely, contributing to a feeling of community.

The result is a vibrant, city-like office where the feeling of monotony does not seem to have any place. This unconventional office design can only be a benefit for both easyCredit and its employees.
Via worldarchitecturenews.com
Designer: Evolution Design (interior design), Baumschlager Eberle, GP Wirth Architekten (architecture)
All photos: TeamBank AG / easyCredit via worldarchitecturenews.com
Please take a look at our Before and After images of selected projects from 2015 HERE.
If you are thinking to open up a new business or in a process of rebranding and remodeling your existing business, contact us to get a free consultation from Mindful Design Consulting. Click HERE to price your project design.

Also, take a look at "Branding By Interior" e-book, the only book written on this subject at this time. It brings insight on how you can turn your business into a market-dominating competitor by using human cognitive responses.
https://mindfuldesignconsulting.com/wp-content/uploads/2016/04/Informal-Office-Interior-Design.jpg
512
720
M T
https://mindfuldesignconsulting.com/wp-content/uploads/2015/07/mindful-design-consulting-logo.png
M T
2016-04-06 19:48:52
2021-08-17 09:13:00
Unconventional Office Design Uses City Concept for an Informal Workspace