Ambiance is arguably the most important trait of a successful public space, a fact that any good interior designer will not take for granted.  The Bresco Chocolate shop in Barcelona, Spain, created by designer Desafra, is a stellar example of interior design done right.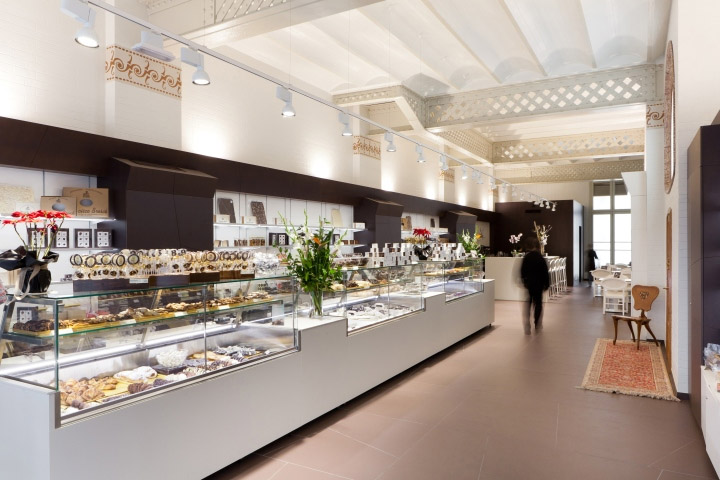 The craftsmanship of this supermarket gives it a dignified appeal, simultaneously allowing the product to be appreciated as well as the architecture and history of the space.
From the street door through to the back of the room, long and elegant shelves allow for a necessary variability in refrigeration. This setup also allows for specialized lighting and perception, to best showcase the chocolates on display. It's efficient while still maintaining aesthetic appeal, allowing this one open space to welcome customers without disturbing the work flow behind the counters. At the opposite end of the space lies the tasting bar, followed by the toilets in the back.
The room is designed to showcase the Casa Calvet modernist theme of the building, highlighting Gaudi's architecture and design, and sharing murals of his biography. All structures, including lights, are fastened at mid-height, allowing for appreciation of ceiling architecture. Glass windows permit passersby a glimpse of the elegant interior. Most restoration work has been done mindfully and purposefully to preserve the original work.
In the heart of Barcelona's impressive and historical architectural landscape, Bresco Chocolate Shop has a truly spectacular design, boasting interior design work that enhances and comprehensively includes the specialty of this chocolate boutique.
To ask us questions about your commercial interior design project or to get a free consultation from Mindful Design Consulting, click HERE.
Also, take a look at "Branding By Interior" e-book, the only book written on this subject at this time. It brings insight on how you can turn your business into a market-dominating competitor by using human cognitive responses.
https://mindfuldesignconsulting.com/wp-content/uploads/2015/07/mindful-design-consulting-logo.png
0
0
Administrator
https://mindfuldesignconsulting.com/wp-content/uploads/2015/07/mindful-design-consulting-logo.png
Administrator
2014-10-23 13:29:58
2014-10-23 13:29:58
Chocolate Store Interior Design in Barcelona – Commercial Interior Design News