The Cupcake Boutique recently unveiled its newly renovated interior design in Stuttgart City Centre. Architect designers, DITTEL/ARCHITEKTEN expanded the sales space by 80 square meters, creating an open and equally inviting atmosphere.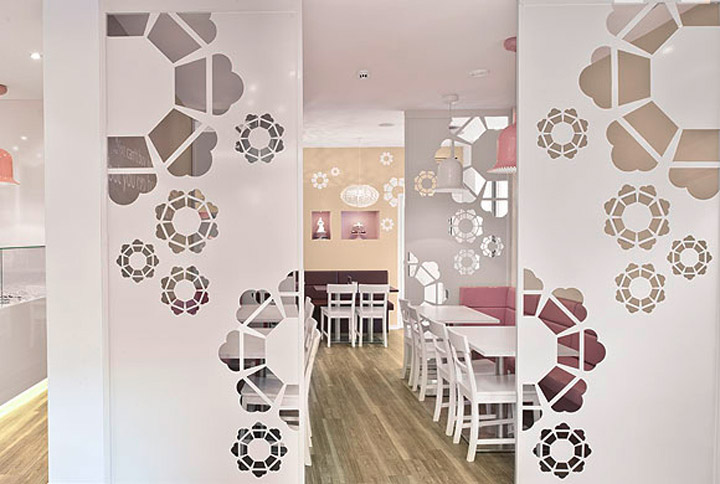 The cohesiveness of the minimalist color scheme draws the patron's attention to the artful display of cupcakes. These treats add a sweet note of detail to the dusty pink, deep mauve, egg shell white, and newly added soft brown color scheme. Soft brown wooden floors trim the boutique in comforting and complimentary support. The boutique's exterior boasts a slate gray coloring that adds depth and dimension to its cornered location.
The cupcakes are nestled inside a crisp glass casing that gives a satisfying visual effect, while seamlessly sharing the spotlight with its surrounding decor. The deep mauve, dusty pink and egg shell white colored dining booths and chairs beckon its patrons to savor the decadence of the tasty cake treats.
Originally opened in 2010, the Cupcake Boutique, interior designer integrated previous design aesthetics to its newer location. The love of small detail and intricate design are evidenced all throughout the space. From small cake panned art, smart lighting, and fixture placement the cupcake boutique invites innocence to indulgence.
An ornamental flower wall and frozen yogurt counter makes the cafe's country style subtle and appealing. The newly renovated showroom has been divided into smaller sitting areas that are designed for adults and children alike. Catchy writing is accented along walls with sayings that demonstrate exquisite attention to detail and clever wit.
The subtle country and minimalist theme is evident upon entry into the boutique. From the cupcake inspired decals on walls, clean detail of the kitchen, highlighting of the kids' area, and precision of the bathroom decorum the shop's interior designer leaves little to be desired.
To ask us questions about your commercial interior design project or to get a free consultation from Mindful Design Consulting, click HERE.
Also, take a look at "Branding By Interior" e-book, the only book written on this subject at this time. It brings insight on how you can turn your business into a market-dominating competitor by using human cognitive responses.
https://mindfuldesignconsulting.com/wp-content/uploads/2015/07/mindful-design-consulting-logo.png
0
0
Administrator
https://mindfuldesignconsulting.com/wp-content/uploads/2015/07/mindful-design-consulting-logo.png
Administrator
2014-11-03 14:48:59
2014-11-03 14:48:59
The Cupcake Boutique New Look – Commercial Interior Design News