Transparency is a most desired quality that designers aspire to achieve in an interior space. It allows for light to travel, it makes a space look airy and open, and it gives an interior a modern fresh look. Translucent panels are an excellent way to do just this. While they create a solid structure wherever one is needed, they look light, bring in color and solve many functional problems while having great aesthetics. They mask details, yet let light bathe your space, and bring people together while giving them a sense of privacy.
We particularly enjoy the translucent panels from 3form, a Utah-based group that brings together creators from all over the world. Its products play with form, shape and light and bring to the design world new sustainable ways to marry beauty and function.
The multilayered structure of the company's Varia formable ecoresin panels allows for color, images, patterns and even textiles to come together in rich, unique and customized designs. The Varia Artisan collection also uses patterns and materials from around the world, handcrafted by global artisans into beautiful visual displays.
Patterned panels bring an artistic touch into the space, as in the case of this hospital interior, where a nature-inspired pattern creates more privacy, doubles as artwork and help create a relaxing environment.
Varia partitions in hospital design. Via 3form
The semi-transparent qualities of the panels help manipulate light in order to create a certain mood or emphasize a certain area. Backlit panels, for instance, draw the eye towards this counter and gives it a radiant luminosity. The counter is made of Chroma panels that allows for excellent light transmission.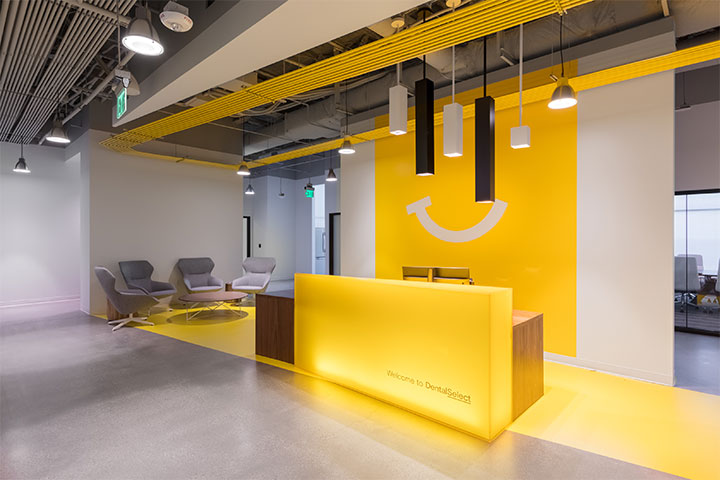 Chroma panels in dental office design. Via 3form.
Depending on the finish, diffusion or effect, Chroma panels can transform a simple counter in a dentist's office into a work of art.
Chroma panels in dental office design. Via 3form.
We have used backlit translucent panels before in the design of yogurt stores where their summery color and radiance helped induce a sunny disposition.
My Yogurt frozen yogurt store design in San Diego, California, by Mindful Design Consulting
The resin can be shaped into different forms and sizes, which gives a designer an ideal material to create artistic displays, or even use them as ceiling accents. They are well suited to outdoor applications, where their translucency can magnify the feel-good mood of a sunny day, and where the durable Koda XT resin panels prove to be a great glass alternative.
Koda XT panels in bridge design. Via 3form.
Even when treated as a highly decorative material, translucent panels are a great strategy for creating a sense of visual separation. A sculptural wavy structure that softly transitions from transparency to pastel and strong colors can turn an uninspiring office, restaurant or any public space into an interior of artistic beauty.
Varia partitions in public space. Via 3form
Monochrome or patterned, the panels separate areas or define spaces while bringing in color, shapes and light.
Varia partitions in public space. Via 3form
The panels can come in greater or smaller degrees of transparency. They can ensure total privacy or just allow for hints of what lies behind them.
Varia partitions in medical center design. Via 3form.
Varia partitions in medical center design. Via 3form.
If you are thinking to open a new business or are in the process of rebranding and remodeling your existing business, contact us to get a free consultation from Mindful Design Consulting. Click HERE to price your project design.
Also, take a look at the "Branding By Interior" e-book, the only book written on this subject at this time. It brings insight into how you can turn your business into a market-dominating competitor by using human cognitive responses.
https://mindfuldesignconsulting.com/wp-content/uploads/2022/06/Wavy-Transluscent-Panels-as-Partitions-in-Public-Space-Design.jpg
540
720
M T
https://mindfuldesignconsulting.com/wp-content/uploads/2015/07/mindful-design-consulting-logo.png
M T
2022-06-29 20:25:57
2022-06-29 20:42:08
Translucent Panels You Never Knew You Needed for Your Commercial Space