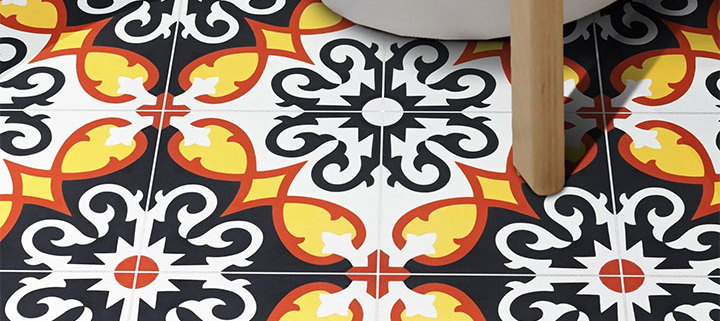 Two of the best flooring materials for small restaurants are tile and concrete. Both can give you an elevated look, yet remain a low-maintenance option at a fairly low cost, perfect for high-traffic areas. The beauty of tile floors is that they allow you to create a dramatic look, especially if you choose bold patterns or unique shapes. Significantly less expensive than other flooring materials, concrete has its own aesthetic virtues, especially when embellished or used in unexpected settings.
Photo above: Agadir Encaustic Cement Tile from Moroccan Mosaic & Tile House
So, if you want a look that sets your restaurant apart, don't think you have to sacrifice beauty when going for the humble tile or concrete. In fact, today's options in tile are mind-blowing: You can create as much or as little drama as you wish. As for concrete, it is not only a solution for urban or industrial settings that go for the raw look. Instead, its use in elegant commercial interiors is likely to surprise and awe customers.
Here are a few flooring materials that we consider good options for small restaurants, bar, dessert shops or cafes.
Magazan Encaustic Cement Tile from Moroccan Mosaic & Tile House
Tiles with geometric patterns
Tiles with large, dramatic patterns that simply demand attention are an excellent choice if you want a daring look without splurging on fancy furniture, wall treatments or accents. By letting your floors do the talking, you reduce the need for another focal point, and can go simple when it comes to other more expensive design elements. Geometric patterns not only give you the drama, but also a sense of order and a very contemporary feel.
In terms of materials, tiles go way beyond just porcelain and ceramics. Here are some tiles created by compressing layers of a mixture of cement, marble dust and mineral pigment. The pattern is obtained by pouring the color into a wire mold and using a hydraulic press to bring all layers together. The result is unique for each tile. If you prefer your tiles to have some subtle character rather than the cookie-cutter look, this may be your answer.
ASNI Encaustic Cement Tile from Moroccan Mosaic & Tile House
Moroccan tiles
There are few flooring materials as eye-catching as Moroccan tiles. If you want to bring into your restaurant the fascinating art of zellige, the mosaic tilework of gorgeous Oriental inspiration, the results are likely to be striking. Made of colorful tile pieces chiseled by hand and arranged into intricate patterns, they have the distinctive feel and charming imperfections of handmade products, which gives them a wonderful warm quality.
However, if you love the visual motifs, yet prefer perfection of detail, you can compromise by choosing tiles influenced by Moroccan mosaic work that go through a manufacturing process less prone to irregularities.
Agadir Encaustic Cement Tile from Moroccan Mosaic & Tile House
Multi-pattern tiles
You can get a very interesting look by using tiles with multiple patterns and bringing them together in a combination that invites a second look. If you want to step away from the ordely look of one-pattern tiles and are searching for a way to be different, mixing various patterns while remaining in the same chromatic palette and overall theme may be the way to go.
Abolos Moroccan Style Glazed Ceramic Tile from Home Depot
Terrazzo tiles
Terrazzo tiles or tiles that mimic the terrazzo characteristics are returning to the design world in force. The look benefits public spaces like restaurants or bars, since it provides visual texture and helps disguise the occasional dust or dirt. Yet, depending on their color, shape, material or design, terrazzo tiles (or tiles that reinvent this look of Italian inspiration), can be elegant to the point of sophistication.
Dessert Sand Terrazzo Hex Porcelain Tiles from tileclub.com
Tiles that mimic other materials
If your heart is set on wood (or even on more expensive flooring materials, such as Moroccan, Mexican or hand-painted Spanish tiles), chances are there is a collection of tiles out there that can mimic the look for a smaller price. Even the shape of the planks and the destressed surface of old wood can be recaptured by tiles. This is a great option if you want the look, but need a low-maintenace option.
Bora White Porcelain Tile from Somertile
Tiles with unique shapes
When it comes to tiles, do not feel that you're limited to the classic square version. Tiles come is many shapes and forms, including less common ones like hexagons, triangle, diamond, leaf-shaped or picket-style options. If you want monochromatic floors or less visual contrast, you can still create a different look by choosing a unique tile shape.
Merci Arabesque Porcelain Floor Tile by Ivy Hill Tile from Wayfair
Concrete-effect tiles
Making the transition to concrete, but not quite getting there, you can choose tiles that copy the look of concrete, like these glazed porcelain haxagonal pieces. This is an interesting solution if you love the raw appearance of concrete for its urban, industrial or simply casual vibes, but find it too harsh-looking.
Concrete-mimicking tiles are also perfect for interiors that want to bring the outdoors in. They have a cooling visual effect and can make customers think of terraces and summer fun.
Urban Glazed Ceramic Tile by Equipe from tile.expert
Concrete tiles
It's a mistake to think that concrete floors don't have their place in elegant settings. In fact, sealed geometric floor tile designs can serve as a wonderful background for upscale furniture, accents and lighting. This is because their simple look allows other design elements to shine. It's both surprising and satisfying to witness the way that concrete, a material generally associated with great weight, lends such an airy feel to a busy setting.
Artillo Charcoal Picket Set in Red Bird Restaurant, Los Ageles, CA via ARTO
Concrete
Similarly to concrete tiles, concrete floors are not necessarily limited to restaurants and bars that try to create an industrial feel. Contemporary interiors with sophisticated metropolitan or urban vibes can easily adopt concrete floors, together with all the advantages that come with them. Cost-effective, quick to install, easy to maintain and an excellent option for high-traffic areas, concrete floors are also hypoallergenic, mold-resistant, and one of the most fire-resistant materials out there.
From an aesthetic point of view, they can be embellished by stamping or etching, which can lead to truly unique results. Polished concrete floors also reflect light, which adds an unexpected touch of glamor and brings in a special kind of warmth to an interior.
If you are thinking to open a new business or are in the process of rebranding and remodeling your existing business, contact us to get a free consultation from Mindful Design Consulting. Click HERE to price your project design.
Also, take a look at the "Branding By Interior" e-book, the only book written on this subject at this time. It brings insight into how you can turn your business into a market-dominating competitor by using human cognitive responses.
https://mindfuldesignconsulting.com/wp-content/uploads/2023/03/Moroccan-Tile-Floral-Pattern-Restaurant-Flooring-Design.jpg
720
720
M T
https://mindfuldesignconsulting.com/wp-content/uploads/2015/07/mindful-design-consulting-logo.png
M T
2023-03-22 14:15:46
2023-03-22 14:15:46
Best Flooring Materials for Small Restaurants