Kids Winshare 2.0 in Chengdu, China, is not your typical children's bookstore. While it comes with shelves and books, this is a spectacular multi-functional space that brings kids and parents together in learning, playing, dining and shopping. The dining and amusement areas have recently been entered into the Restaurant & Bar Design Awards 2021 competition and make not only for worthy competitors, but also for a good opportunity to contemplate what the children's bookstore designs of tomorrow might look like.
While the shopping and learning areas of the bookstore are centered around a garden theme, the restaurant and playground take a more futuristic turn. The organic and abstract shapes remain, but the overall look goes beyond the initial vegetal inspiration.
In one area of the restaurant, hexagonal wood boards resembling a child's building blocks connect into an enveloping structure evoking the shape of a tunnel. While the generous windows still allow for plenty of light, the wooden arrangement connects the entire length of the room and shapes its landscape.
Tall wooden shelves separate this area from a second one, where organically-shaped support structures and wooden walls contrast with the unique ceiling landscape.
While this space benefits less from the large windows, it is generously lit from different sources. Petal-shaped wall recesses add ambient lighting to the illumination provided by recessed and shelf lighting.
While the floor is kept neutral, the play of lights and shadows descending from the ceiling create a pattern that evokes the look of the earth on cloudy days.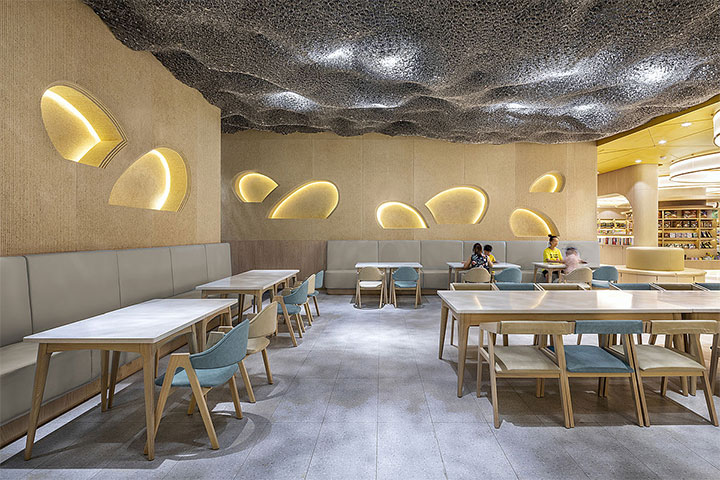 Adjacent to the dining area, a multi-functional playground that doubles as an open theatre space completes the children's restaurant design. Underneath a starry sky created by LED lights, a colorful concave area is bordered by a circular lip from where the parents can watch their children play.
When used for lectures or book launches, the acoustic qualities of the dome-shapes ceiling allow the speakers to do without a microphone, while listeners sit on the lip of the playground. The well-lit shelf leitmotif extends to this area as a permanent reminder of the books ready to fill it.
Children's Restaurant Design: PANORAMA Design Group
All photos: POPO VISION via restaurantandbardesignawards.com
If you are thinking to open a new business or are in the process of rebranding and remodeling your existing business, contact us to get a free consultation from Mindful Design Consulting. Click HERE to price your project design.
Also, take a look at "Branding By Interior" e-book, the only book written on this subject at this time. It brings insight on how you can turn your business into a market-dominating competitor by using human cognitive responses.
https://mindfuldesignconsulting.com/wp-content/uploads/2021/04/Futuristic-Kids-Library-Interior.jpg
480
720
M T
https://mindfuldesignconsulting.com/wp-content/uploads/2015/07/mindful-design-consulting-logo.png
M T
2021-04-07 17:35:42
2021-06-30 06:33:54
Children's Restaurant Design Completes Futuristic Bookstore Interior