If you are a brioche-style doughnut lover and are working on appeasing your sweet tooth, Blondie's Doughnuts is the place to be. We have recently helped the company design their physical location and came up with a doughnut shop interior design of a unique inspiration.
The company's original logo had been designed by their artist friend from Africa. While we revamped it into a more modern vector-file version, we preserved both its vibes and inspiration, and carried them on throughout the entire shop. We chose bright colors and bold patterns that evoke the culture of the African continent and created an interior that is energizing and uplifting.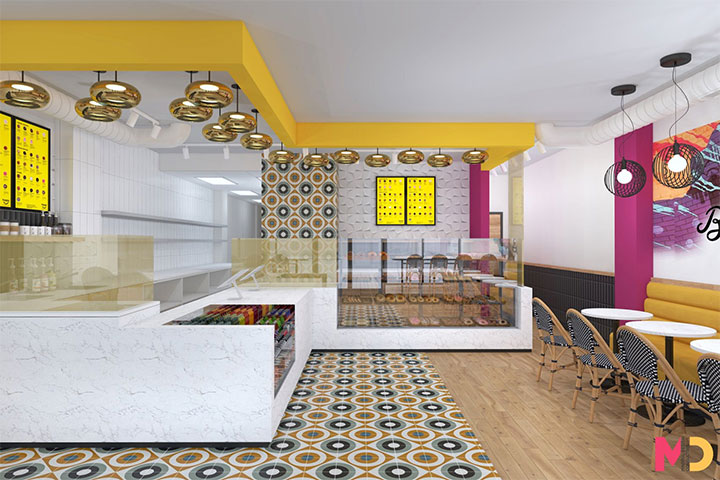 The first thing that customers see when entering the store is the floor and wall tile that brings together the front and back of the shop. The high-contrast geometric pattern pops against the wood-like laminate floor and the white walls. Because of the bold character of this tile, we limited the amount of additional colorful patterns that we used in the store. Instead, we opted for tone-on-tone patterns when necessary for creating some visual variety, such as the ones of the white 3D wall tiles.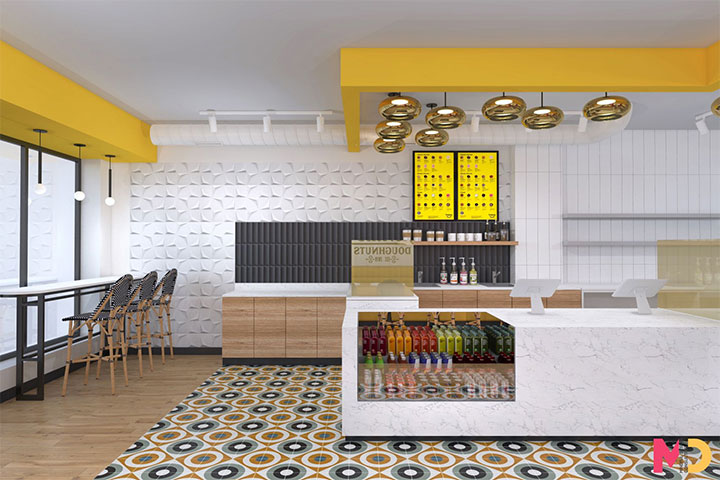 Most accents are reminiscent of African life, culture or nature. Yellow soffits bring to mind the sun-filled African days, while the purple paint brings in a visual suggestion of their intense heat. The gold circular light fixtures evoke the beauty and impact of African women's bold jewelry. Black-and-white chairs are a subtle throwback to the hordes of zebras running through the African grasslands. While these touches are subtle, they come together into an unmistakable and elegant celebration of African beauty.
The high-impact wall-graphic behind the seating area brings together al the colors of the interior – and a few more. The artistic treatment, its assymetries and informal brushes of color are all offering a welcome balance to the orderly lines of the tile patterns and the strict geometry of the counter, furniture and interior structures.
All the daring accents of this doughnut shop interior design are layered upon neutral materials and finishes that tone them down, while at the same time making them even more visually effective.
Designer: Mindful Design Consulting
All photos: Mindful Design Consulting
If you are thinking to open a new business or are in the process of rebranding and remodeling your existing business, contact us to get a free consultation from Mindful Design Consulting. Click HERE to price your project design.
Also, take a look at the "Branding By Interior" e-book, the only book written on this subject at this time. It brings insight into how you can turn your business into a market-dominating competitor by using human cognitive responses.
https://mindfuldesignconsulting.com/wp-content/uploads/2022/11/African-Inspired-Donut-Shop-Interior-Design.jpg
480
720
M T
https://mindfuldesignconsulting.com/wp-content/uploads/2015/07/mindful-design-consulting-logo.png
M T
2022-11-30 16:24:22
2022-12-01 09:19:33
Doughnut Shop Interior Design Inspired by African Colors and Patterns