Via archdaily.com
Designer: SK Arquitetura
Photos: Marcelo Donadussi via archdaily.com
Passers-by through a mall in Igara, Brazil, have no choice but notice the oversized image of an ice-cream cone on the brick wall of one of the mall's stores. It is a great way to invite them to test the Italian gelato that Gianluca Zaffari serves with great class in the middle of a relaxing ambiance. This gelateria interior design has everything to do with the calming effect of this charming store and achieves a lot without looking like it's trying.
The color palette is simple, subtle and natural. A combination of white and light wood shades gives the interior a clean, fresh look and places it in safe, yet appealing neutral territory of personal tastes. The use of natural materials adds another level of visual comfort. Hydraulic tiles create a geometric pattern on the floor and brings in just the right amount of dark yellow to the muted chromatic combination of the store. Faux brick partially covers the wall and creates a raw yet clean look.
The horizontal pine wood slats in the seating area dress the wall and have a slight rustic vibe. The warmth of the wood and its unfinished look create a sense of simplicity and familiarity. Through the use of these natural materials, the designers attempted to suggest the natural approach to making gelato out of wholesome ingredients.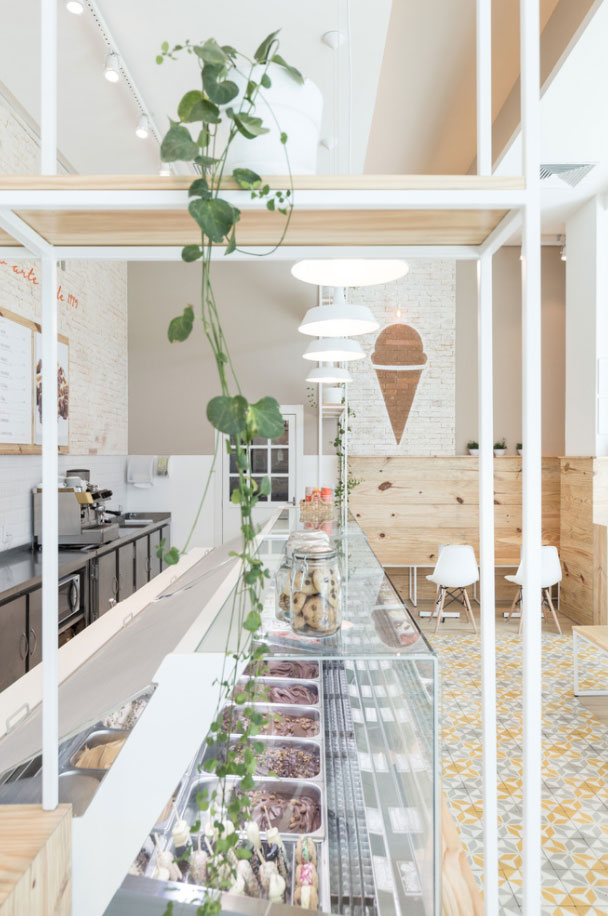 Balancing these natural elements, modern, almost minimalistic light fixtures, shelves and furniture ensure the appeal of this gelateria interior design to the modern taste. The wood counter and shelves continue the "natural" theme, together with a slim, space-saving plant for an extra touch of color.
If you are thinking to open a new business or are in the process of rebranding and remodeling your existing business, contact us to get a free consultation from Mindful Design Consulting. Click HERE to price your project design.
Also, take a look at "Branding By Interior" e-book, the only book written on this subject at this time. It brings insight on how you can turn your business into a market-dominating competitor by using human cognitive responses.
https://mindfuldesignconsulting.com/wp-content/uploads/2020/11/Green-Plants-in-Gelato-Store-Design.jpg
916
608
M T
https://mindfuldesignconsulting.com/wp-content/uploads/2015/07/mindful-design-consulting-logo.png
M T
2020-11-04 20:43:38
2021-09-14 16:46:20
Gelateria Interior Design Proves the Appeal of Natural Materials