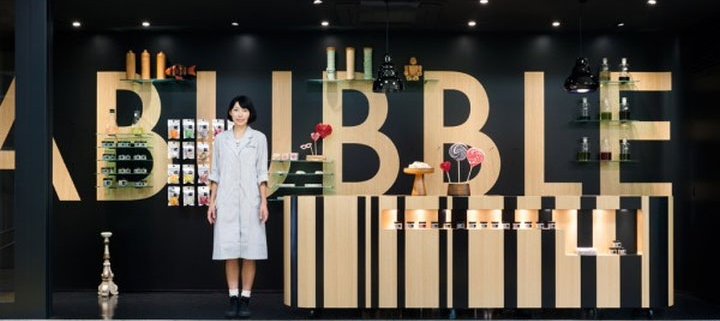 The Shinjuku, Tokyo branch of the Papabubble artisan candy store is snugly tucked into a high-traffic area on the concourse of the bustling Shinjuku station, which sees an average of more than 3 million passengers a day. The candy store interior is tiny, with a total floor area of just a little over 13 square meters, and Torafu Architects tackled the design challenge of this unique environment with a desire to make the store branding recognizable, exciting, and eye-catching in the limited space given. With so many passers-by on any given day, it was important to make the candy store design of Papabubble stand out from the multitude of other shops on the concourse.
This unique candy store interior features a very shallow floor plan and an unusual shape that the branding design company used to their advantage. A signboard-style logotype of the shop's brand across the entire length of the shop turns the whole interior into one big billboard. It shows off the candy store branding with an eye-popping contrast between the black wall and the natural wood finish of the letters. The store interior designers continued this contrasting look throughout the whole shop with black walls, flooring and lighting accessories.
In addition to the wall-to-wall candy store branding, the designers also included the store's logotype across the checkout counter. To reflect the shop's vivid, elegant and fun decorative candy, they came up with the black inlaid letters that extend all the way through the natural wood counter. This element was inspired by layered candies that show their beautiful patterns all the way through, no matter where they are cut.
The dramatic contrast used throughout the artisan candy store makes Papabubble stand out from the stark white interior of the station. It makes the store branding highly visible from a distance and turns the whole interior into an eye-catching advertisement in a jam-packed concourse.
Via retaildesignblog.net
Designer: Torafu Architects
All photos: Takumi Ota via retaildesignblog.net
To ask us questions about your commercial interior design project or to get a free consultation from Mindful Design Consulting, click HERE.
Also, take a look at "Branding By Interior" e-book, the only book written on this subject at this time. It brings insight on how you can turn your business into a market-dominating competitor by using human cognitive responses.
https://mindfuldesignconsulting.com/wp-content/uploads/2013/12/Black-and-Gold-Artisan-Candy-Shop-Design.jpg
480
720
Administrator
https://mindfuldesignconsulting.com/wp-content/uploads/2015/07/mindful-design-consulting-logo.png
Administrator
2013-12-12 10:50:24
2022-05-17 13:21:16
Sharp Branding of Artisan Candy Store in Tokyo