Via contemporist.com
Designer: Golucci International Design
All photos: Sun Xiangyu
Restaurant lovers may expect many things when patronizing their favorite venues, but fog is surely not one of them. Diaoye Niunan, a restaurant in Beijing, adds this unexpected twist, for a dining experience that is out of this world.

Created by Golucci International Design in 2015, the restaurant gives its patrons the feeling they dine in the clouds, or at least at great heights. On entering, they walk along a paved floor covered in fog, towards simple, angular tables surrounded by wooden benches.

The benches are built as floating platforms, which frees the space, keeps the design clean and creates the illusion of loftiness. To enhance this visual treat, the screens that separate the tables are shaped as mountains and have the color of snow-covered peaks. Made of perforated metal, the screens convey a sense of privacy and intimacy, but allow the other tables to be visible as through a dreamy fog.

For a more traditional dining experience, the restaurant offers its patrons a row of tables against a long adjacent wall. Keeping with the same simple lines, this side of the restaurant has its own sense of poetry. Literally, because Chinese poems cover the entire wall.

The design makes extensive use of earthy materials, with wood and warm neutral tones. Minimalistic lighting fixtures introduce curves that balance the sharp construction of the tables. Their extreme simplicity allows for a large number of lights to be displayed without overwhelming the design. At night, these lights recreate the view of the starry sky against the dark windows.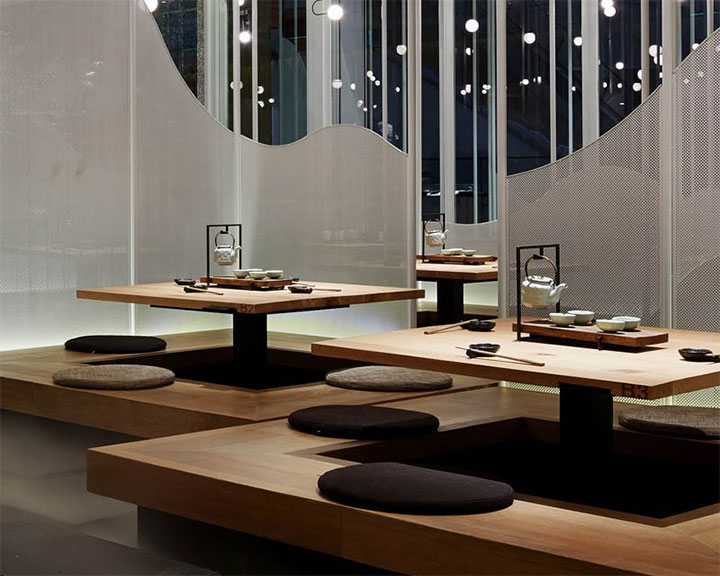 The interior is softened by the minimal presence of fabric in the seat cushions, back pillows and chair covers. However, Diaoye Niunan is an excellent example of modern restaurant interior design where warmth comes from unexpected places. For those who want to feel as dining in the clouds, the illusion created by this interior is a gratifying form of escape.

Please take a look at our Before and After images of selected projects from 2015 HERE.
If you are thinking to open up a new business or in a process of rebranding and remodeling your existing business, contact us to get a free consultation from Mindful Design Consulting. Click HERE to price your project design.

Also, take a look at "Branding By Interior" e-book, the only book written on this subject at this time. It brings insight on how you can turn your business into a market-dominating competitor by using human cognitive responses.
https://mindfuldesignconsulting.com/wp-content/uploads/2016/01/Fog-Restaurant-Dividers.jpg
465
720
M T
https://mindfuldesignconsulting.com/wp-content/uploads/2015/07/mindful-design-consulting-logo.png
M T
2016-01-20 18:53:35
2016-01-22 21:00:56
Unique Restaurant Interior Design Makes Fog an Element of Decor