Responding to an atypical 2020, Pantone followed the trend in 2021 and broke with the way they usually designated their Color of the Year. First, they chose two colors to wear the coveted crown, as opposed to one, as they generally did. Second, their choice for the 2021 Pantone Colors of the Year had a much greater dose of symbolism as opposed to just reflecting fashion and interior design trends, as it usually did.
Pantone Ultimate Gray and Pantone Illuminating could not be more different, and at the same time more reflective of what had happened in our lives in 2020. The dull gray was a perfect representation of the neutral, monotonous, almost colorless life we had led in isolation, yet it had something that spoke of stability and solid grounding. By contrast, the sunny yellow suggested hope, happiness and the light at the end of the tunnel. Together, the two colors were a fitting depiction of the ambiance of 2020 and the mood (and hopes) we took into 2021.
Photo via pantone.com
In terms of fashion and interior design, the combination continues to be one of great potential. Offering a pleasant chromatic contrast and something for both those who love vibrant colors and those who prefer more subdued tones, the Ultimate Gray-Illuminating combination is fresh and arresting. For an industrial or urban interior, it is an interesting way to make use of concrete walls or floors, while achieving a visually stimulating look with bright yellow furniture or accents.
Buona Bocca Italian Winebar in Beijing by STUDIO RAMOPRIMO. Photo via archdaily.com
The color combination is uncommon, which makes such an interior easy to remember. Urban coffee shops or bars that want to celebrate their location and bring in light are an ideal candidate for a gray-and-yellow decor.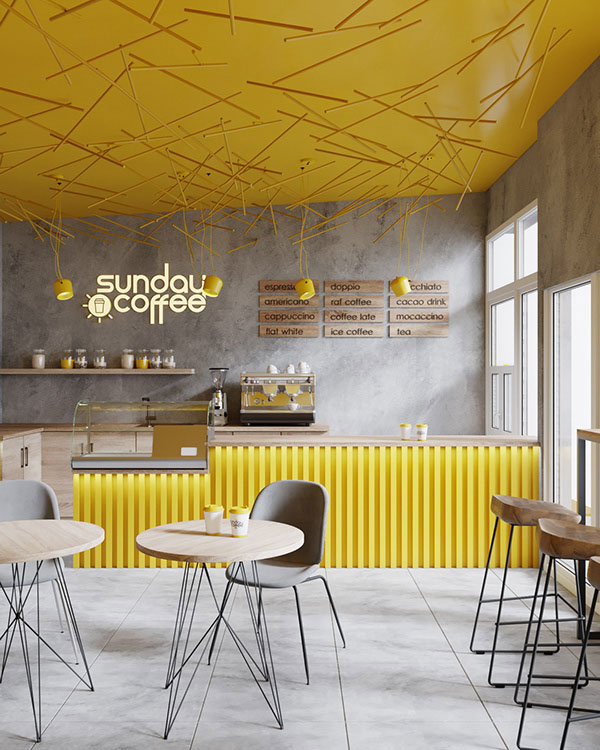 Sunday Coffee cafe in Lviv, Ukraine, by Vymir Design Studio. Photo via behance.net
For a modern look that uses more refined wall treatments, yellow-and-gray wallpaper can provide a refreshing and artistic option. Geometric patterns can benefit from this chromatic combination, since this comes with the visual contrast necessary to break with visual monotony.
Petal Print Wallpaper from muralswallpaper.com
Floral prints seem to pair successfully with the 2021 Pantone colors, without any need for green tones to look fresh and springlike.
Flower Power print for dress via redbubble.com
The simplest way to introduce these colors into your designs is through accent pieces. This ottoman combines a nature-inspired pattern with a contrasting, yet visually relaxing yellow-gray chromatic mix. The white background keeps the look airy and delicate, despite the busy pattern.
Dahlias pouf. Via zazzle.com
White makes the gray-and-yellow pair brighter, softer, and easier on the eyes. This rug brings all these tones together into a striped pattern that can add a cheerful touch of color to a small space.
Microfiber Striped Rug from Target
Throw pillows are the number one solution when you need to quickly freshen up a tired or monotonous decor. The gray-yellow mix and a visually powerful stripe pattern are a winning combination.
Gray and White Pillow Ticking with Yellow Stripe from Spoonflower
Other accent pieces, such as this Geo round clock, can use the gray and yellow Pantone tones to achieve a mid-century modern look.
Simple modern gray, yellow and black Geo round clock via zazzle.com
Surprisingly, while gray tends to remind us of sidewalks, concrete walls and urban landscapes, it can provide a stunning background for nature-inspired art.
Yellow and Gray Tree Art Print by Lourry Legarde via fineartamerica.com
In the bathroom, a quick change of the shower curtain can bring the whole mood into 2021 Pantone Colors of the Year territory.
Ombre Yellow/Gray Texture Printed Shower Curtain Set from Home Depot
Commercial spaces often use lighting as an additional way to introduce color and contrast into their decor. This Capsula pendant light by Lucie Koldova Studio can serve as a way to tie in the colors of the space or bring in a quaint decorative touch.
Capsula Multi-light LED Pendant Light via YLighting.com
Finally, for a minimalist look that does not sacrifice elegance, this Gio pendant light is a charming space-saving solution that gives you the color, but keeps the space airy and uncrowded.
Gio Multi-light Pendant Light by Patrick Norguet from Artemide via YLighting.com
If you are thinking to open a new business or are in the process of rebranding and remodeling your existing business, contact us to get a free consultation from Mindful Design Consulting. Click HERE to price your project design.
Also, take a look at "Branding By Interior" e-book, the only book written on this subject at this time. It brings insight on how you can turn your business into a market-dominating competitor by using human cognitive responses.
https://mindfuldesignconsulting.com/wp-content/uploads/2021/01/2021-Pantone-Colors-of-the-Year.jpg
313
720
M T
https://mindfuldesignconsulting.com/wp-content/uploads/2015/07/mindful-design-consulting-logo.png
M T
2021-01-06 21:39:58
2023-02-23 13:12:00
Snippets from the Past – Using the 2021 Pantone Colors of the Year