Depending on the location of your cafe or restaurant, the much expected summer may be much too short. To appeal to customers that are craving sun, warmth and color, don't waste the opportunity to bring some summer vibes into your space. Summer restaurant decor can be as simple as adding a few flower arrangements or fresh bouquets to your tables, but don't shy away from elements with big visual impact.
Below, we put together a few ideas for your restaurant's walls – the best and most impactful canvas you have at your disposal.
Floral wallpaper
While wallpaper is definitely more complicated than paint, it has a stronger presence and creates an instant reaction. When it comes to sprucing up your place with summer restaurant decor, floral wallpaper is the it element.
The front foyer of Leo's Oyster Bar in San Francisco is a perfect example of daring wallpaper used in an elegant way. Custom-designed and perfectly combined with real plants and wood accents, the wallpaper invites customers into a corner full of lush vegetation and deep color.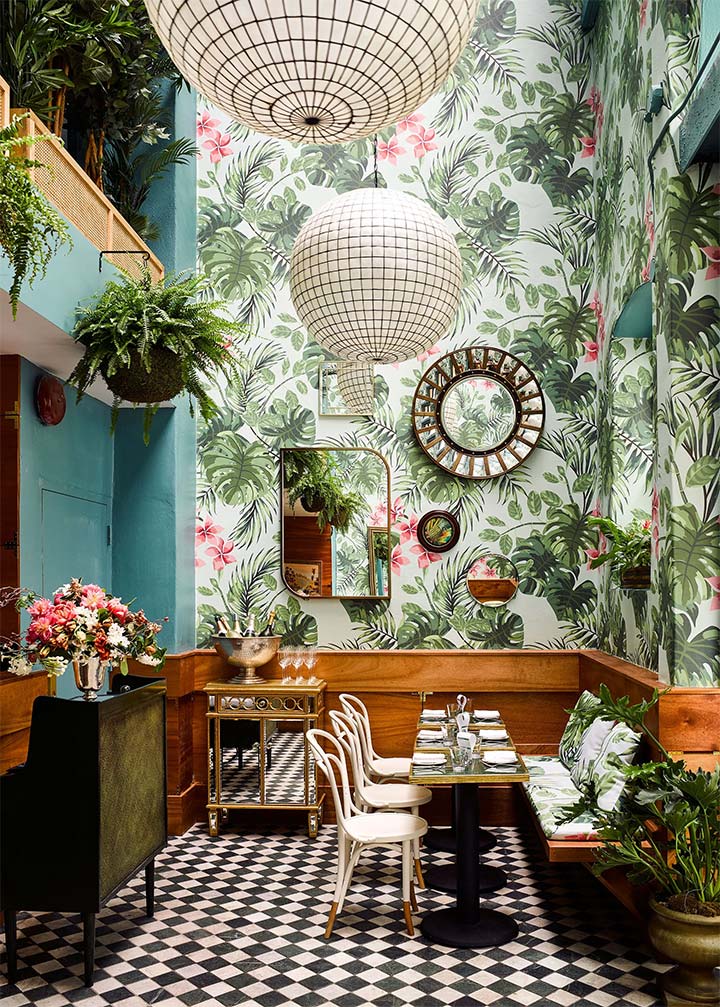 Photo: Douglas Friedman via architecturaldigest.com
The same concept takes a unique artistic turn in this corner where oversized vegetation makes customers look at the surroundings from the perspective of a small creature.
Wallpaper from Cara Saven Wall Design. Photo via Pinterest
Inspired by Southeast Asia flowers and plants, this wallpaper is the perfect match for an Asian-food restaurant.
Photo via Gallery Wallrus
Of course, there is nothing that spells summer like an incursion into the Hawaiian spirit and colors.
Aloha Tropical Multi Paper Strippable Wallpaper by Graham & Brown from Home Depot
The textured Urban Floral MulticoloRed vinyl wallpaper is as luxuriant as a summer garden, but stays within a more restricted and elegant color palette.
Urban Floral MulticoloRed Vinyl Strippable Wallpaper by Superfresco Easy from Home Depot
Durable, washable and tear-resistant, this Garden Party wallpaper celebrates the luxuriant flowers and colors of summer.
Garden Party Wallpaper by York Wallcoverings from Home Depot
Summer art or photography
If you feel that applying wallpaper require too much of a commitment, you can choose instead to use wall art as restaurant summer decor. This collection of nautical prints makes you almost feel the summer breeze and gives you an exhilarating sense of freedom.
Tropical Summer Wall Art Set from Yellowbird Art & Design Store via Amazon
For a coastal location, this surf art collection may be an excellent fit, especially if your restaurant or cafe caters to young people.
Coastal Wall Art Set from Amazon
This cheerful canvas print from sculptor, muralist and professional painter Patricia Pinto is a great alternative that leaves behind the subtle chromatic scheme and fills your wall with bright colors.
Summer Beach Cabana I Wall Art from Great Big Canvas
In fact, a single piece of wall art, well chosen and strategically placed, may be everything you need to create a summer feel. In this restaurant, the large photo print in the back creates the impression of a window that opens to the beach.
Art by Elizabeth Anne Designs
If the colors of your interior are muted or neutral, a summer-themed piece of wall art can have a great impact and drive the mood of your place.
Depending on its size, a snapshot of the beach can make your entire restaurant look prepped for summer. If you choose an intriguing piece of photography like the one below, you also offer your customers something to contemplate, weigh and analyze.
Green or moss wall art
You can recreate the look of lush vegetation inside your restaurant by using green or moss wall art. Such green accents are associated with summer, energy and abundance, and create a feeling of both security and wonder.
Allow yourself to be creative and let plants fill unexpected corners. The impact of green decor is instant and guaranteed. Combined with subtle lighting, green wall art gives your customers the pleasant impression that they are dining outdoors.
Photo via Artisan Moss
Wall lights or string lights
Finally, nothing creates atmosphere like light. String lights have become almost synonymous with summer nights spent with friends at an outdoor cafe. They create a wonderfully romantic ambiance that make your customers stop and linger. Use them to finish off your outdoor area, to outdo the local competition, and to create a unique look.
Crossett 16′ Solar Powered 30-Bulb Mini String Light from Wayfair
If you are thinking to open a new business or are in the process of rebranding and remodeling your existing business, contact us to get a free consultation from Mindful Design Consulting. Click HERE to price your project design.
Also, take a look at "Branding By Interior" e-book, the only book written on this subject at this time. It brings insight on how you can turn your business into a market-dominating competitor by using human cognitive responses.
https://mindfuldesignconsulting.com/wp-content/uploads/2021/07/How-to-Use-Wallpaper-to-Decorate-Restaurant-for-Summer.jpg
360
720
M T
https://mindfuldesignconsulting.com/wp-content/uploads/2015/07/mindful-design-consulting-logo.png
M T
2021-07-07 23:53:23
2021-07-08 00:05:05
4 Wall Details for Summer Restaurant Decor