If ice cream or frozen yogurt stores can entice customers with vibrant colors that evoke their flavors; and if dessert stores can rely on their products' appetizing colors and smart packaging to bring in clients – one of the challenges of creating effective bakery interior designs is making their products shine. The neutral colors and often unpretentious look of pastry products may be no match for the universal love we all have for them. But how do you convince passers-by to stop, come in and take a look before they even see what's on the shelf?
Below, there are a few bakery interior designs that offer some answers.
1. Panemar Polus Center Bakery
Cluj-Napoca, Romania
Designer: Todor Cosmin Studio
Photos: Em Iova via retaildesignblog.net
There is nothing more in tune with the idea of fresh bakeries than the rustic, familiar presence of wood. Designed by Todor Cosmin Studio and part of a Transylvanian bakery chain, this Panemar store takes a bow to the local traditional values and aesthetics. The wood-slat ceiling, decorative logs and wooden furniture signify a return to basics and suggest a fresh, natural approach to bread making. The similarities between the hues of the wood elements and the color of wheat add an extra layer of meaning to this indirect message.
However, the design is well anchored into the present. The heavy use of wood is balanced by the industrial feel of the exposed ceiling, and the airy, clean look of glass. With its glass cubes and wood display that appears to be suspended above the tile floor, the front counter is the perfect combination of contrasting styles that meet in perfect harmony. Green upholstered chairs and sofas bring in a touch of color, while remaining in the same key of fresh natural vibes.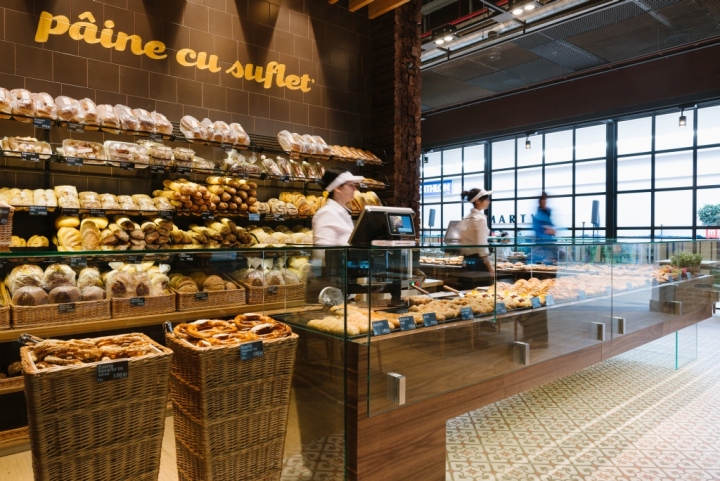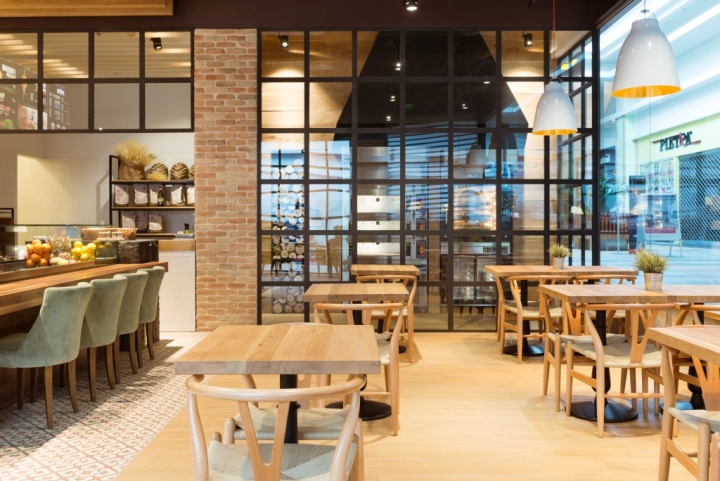 2. Il Lago Bakery and Wine
Goyang City, South Korea
Designer: Design Bono
Photos: Pyo-Jun Lee via retaildesignblog.net
A similar approach, but with entirely different results, was taken by the designers of Il Lago Bakery and Wine, located in the lobby of the MVL Hotel in Seoul. Going back to the old wineries of medieval age and to classical art for inspiration, they created a large arched sculptural structure that connnects the shop with the hotel's main entrance and becomes the defining element of the design. This structure has the double effect of enhancing the lobby design, and making the shop easy to be perceived by those who enter the hotel.
Large columns and layered molding add to the classic vibe of the space. Large display shelves evoke the romatic look of old sailing ships silently passing under the arches of stone bridges or through mysterious caves. Despite this, the space is utterly contemporary: the open space, high ceilings, clean lines, and fresh and luminous chromatic palette respond to the sophisticated tastes of today's customers.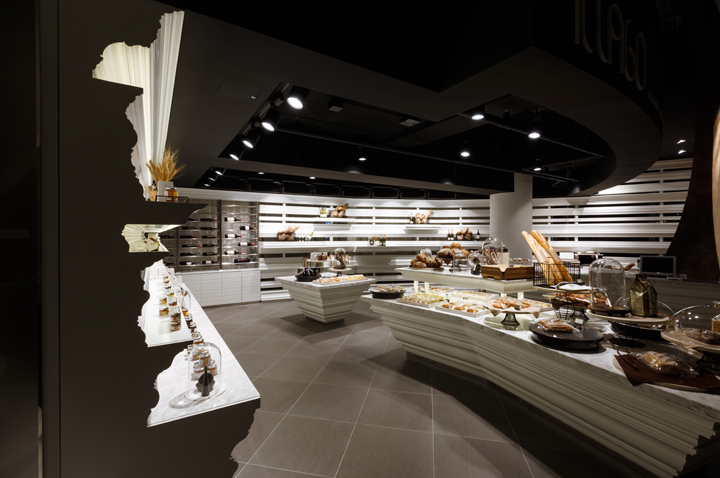 3. Pan y Pasteles
Alcalá de Henares, Spain
Designer: Idea Arquitectura
Photos: Miguel de Guzmán via designboom.com
The ability of contrasting elements to emphsize each other's beauty should never be underestimated in interior design. The third retail store of the Pan y Pasteles bakery chain in Alcalá de Henares, close to Madrid, brilliantly proves it. Emphasizing the beauty of a 150-year old interior, with its aged brick walls and medieval vibes, 12,000 painted wood sticks are descending from the ceiling like an undulating indoor coral reef. Every now and then, hidden among them, light fixtures assume the same tubular shape. The result is an interior of artistic beauty, great creativity and fun, yet true to the history of the place.
4. Mauel Bakery
Bonn, Germany
Designer: Andre Walterscheid
Photos via walterscheid.info
Using a restricted color scheme, the Mauel Bakery in Bonn exudes elegance and sophistication. Set against light walls and floors, a dark counter creates a wonderful background for pastries and for the store's oversized logo. Golden lamp shades with curved modern lights add a rich, glamorous vibe. They provide directional lighting, create a warm ambiance and borrow from the colors of the golden-hued sweet treats.
The dark display counter is a smart way of making the pastry even more appetizing. Mauel is a wonderful exampe of how to make customers feel pampered with luxurious sights and treats, and how to make your pastries look irresistible.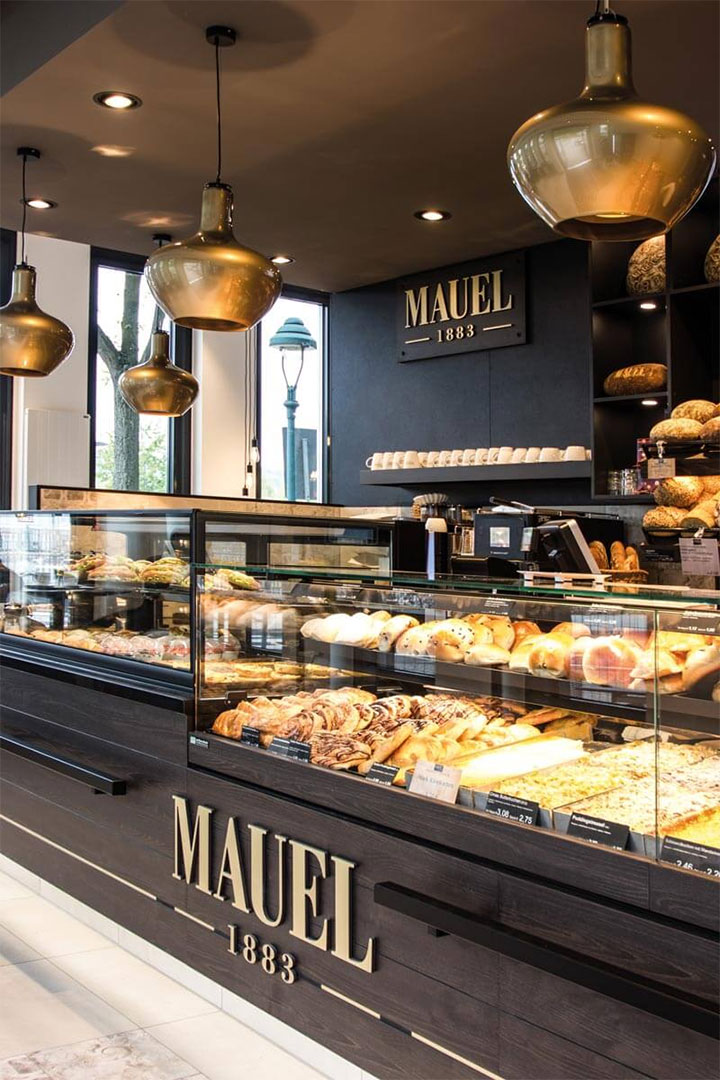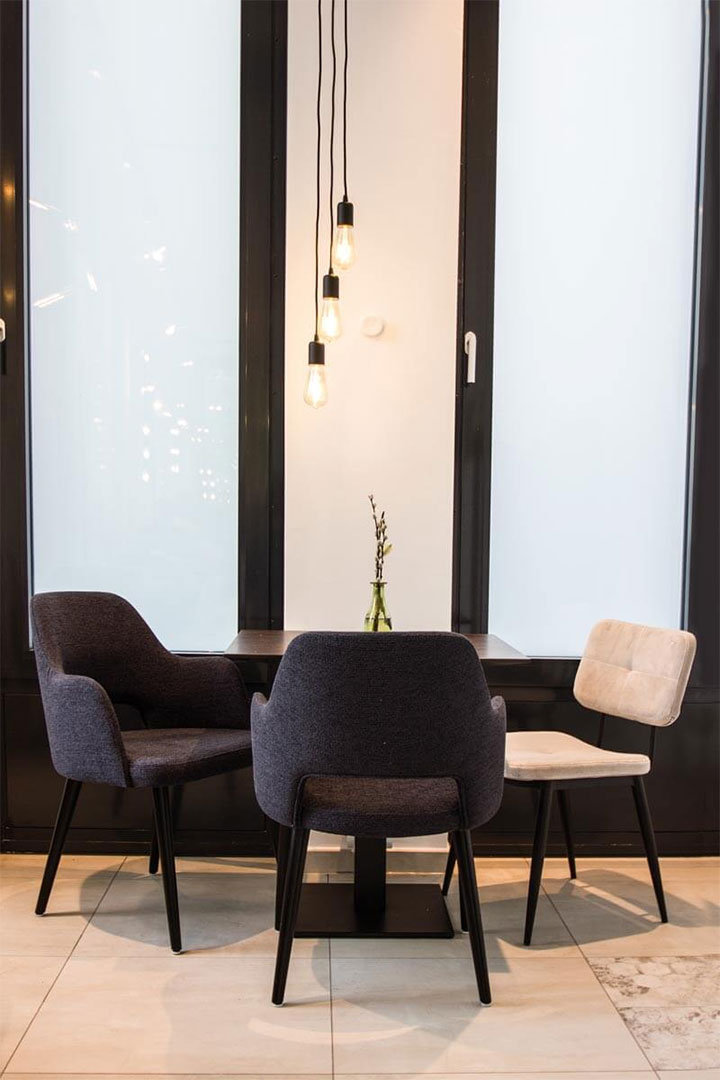 5. Valentina Bakery
Medellin, Colombia
Valentina Bakery proves the power of detail in creating effective bakery interior designs. While brick, molding, wallpaper and wood come together to adorn the store's walls, different floor treatments turn visiting this shop into a visual adventure. Tufted upholstered benches combine with floral, wood, acrylic and metal chairs, while a combination of sconces, light pendants and recessed lights create a warm ambiance.
Charming touches such as hanging teapot light shades, light decorative dishes or greenery over a softly illuminated recessed shelf emphasize the comfortable, familar atmosphere. The store's logo adds a touch of elegance to the mix and invites customers to remember this quaint store.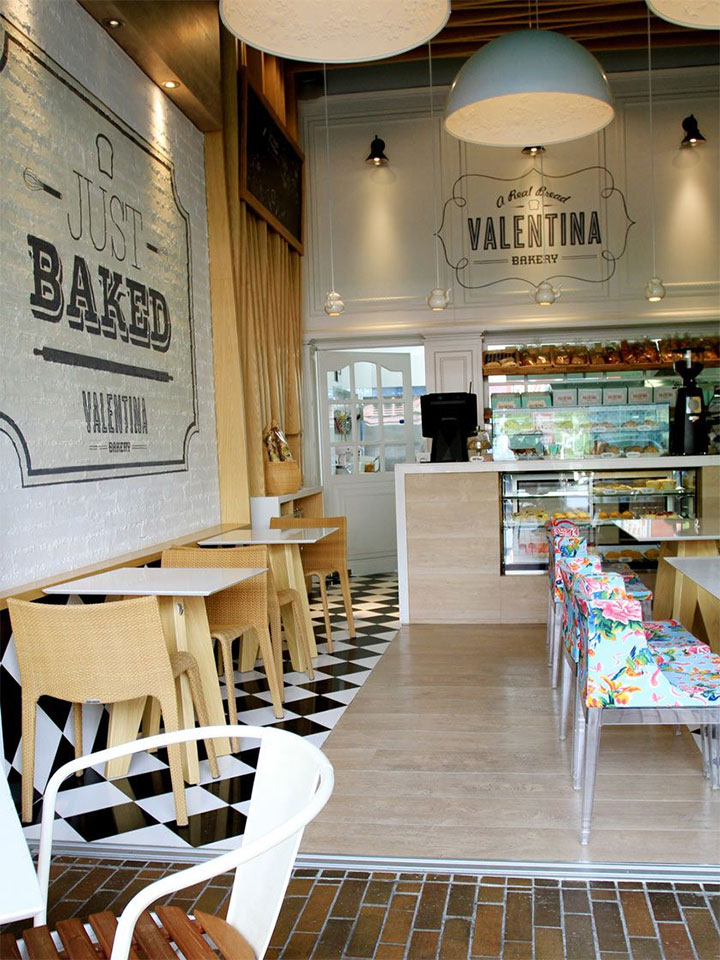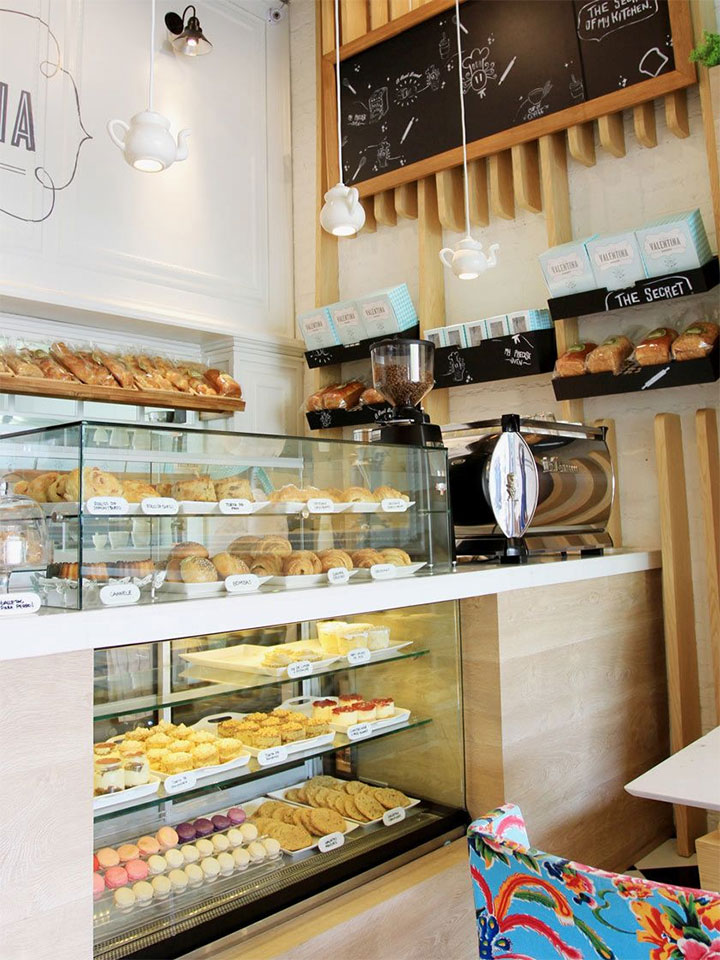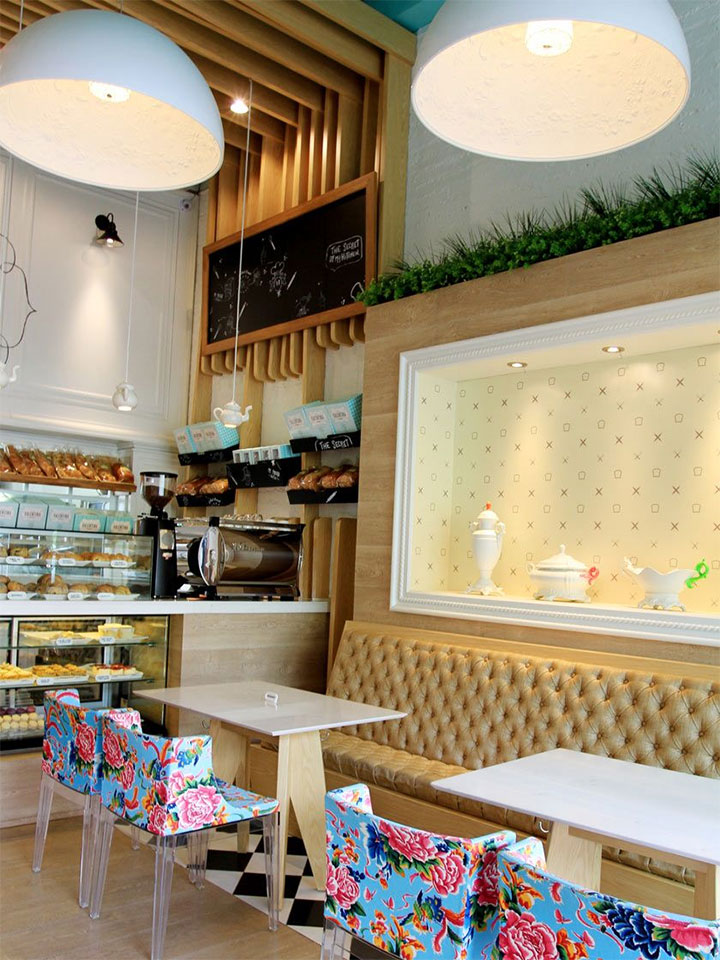 If you are thinking to open a new business or are in the process of rebranding and remodeling your existing business, contact us to get a free consultation from Mindful Design Consulting. Click HERE to price your project design.

Also, take a look at "Branding By Interior" e-book, the only book written on this subject at this time. It brings insight on how you can turn your business into a market-dominating competitor by using human cognitive responses.
https://mindfuldesignconsulting.com/wp-content/uploads/2020/07/Rustic-Bakery-Interior-Design.jpg
481
720
M T
https://mindfuldesignconsulting.com/wp-content/uploads/2015/07/mindful-design-consulting-logo.png
M T
2020-07-22 20:17:42
2021-06-21 12:26:21
Bakery Interior Designs, From Rustic to Sophisticated