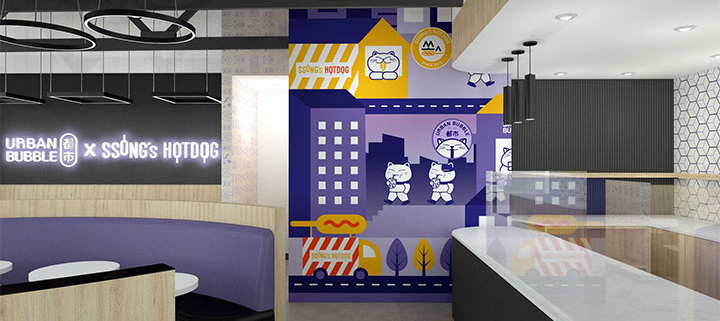 There is nothing like an exciting colorful dessert shop interior to open one's appetite for sweet treats. When dessert flavors are mirrored in the colors of the store, the look alone may sell the products. Even when they are not taking this route, colorful dessert shops appeal to a clientele that wants to be visually entertained while buying or consuming their treats.
Here are a handful of such dessert shops, bubble tea stores or cafes that use color to create caracter and interest.
The Urban Bubble Boba Tea and Ssong's hot-dog franchise store in San Diego, CA, is one of our recent projects. While we generally use trends more as a creative springboard rather than as rules to follow, we found that an exciting combination of blue and violet, very similar to Pantone's 2022 color of the year, fits well the sensitivities of today's clients. Relaxing yet exciting, the color achieves the winning combination of serenity and dynamism.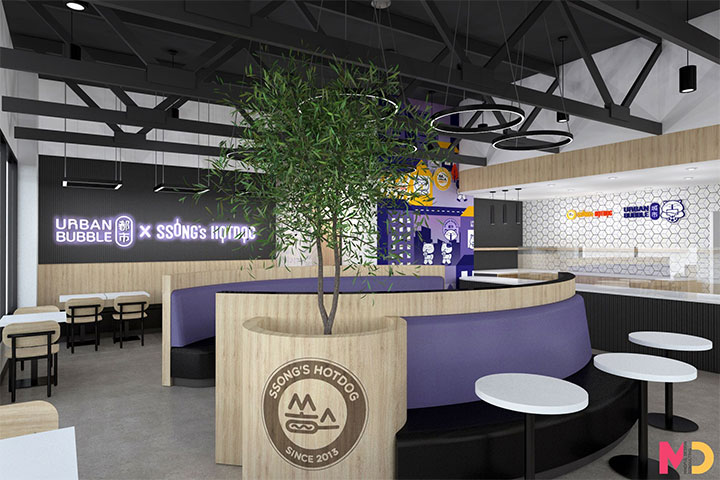 Urban Bubble Boba Tea and Ssong's Hot-Dog Franchise Store. Designed by Mindful Design Consulting
While we love using bold colors, we sometimes relegate them to accent pieces, which makes them even more impactful by contrast with a neutral background. In this case, we paired the violet-blue tones with a touch of yellow, and used them to emphasize the curves of the seating area or the wall graphics by the front counter.
Urban Bubble Boba Tea and Ssong's Hot-Dog Franchise Store. Designed by Mindful Design Consulting
In the case of the Leafly boba tea store in Alabama, we chose only one color as the main actor in the interior design. Yellow appears here on a large scale, but only in a few design elements, such as the soffit above the counter, the store logo and the wall graphics. To make it pop, we used dark gray and black in accent pieces throughout the store or as a background or mirroring elements for the yellow touches.
Leafly Boba Tea Store Design by Mindful Design Consulting
While the interior is mainly neutral, the yellow elements define the entire space. To achieve this effect, we used blocks of color on large surfaces.
Leafly Boba Tea Store Design by Mindful Design Consulting
Designed by Moscow-based V1 Architects, the Karavaev Brothers cafe in the same city attempts to capture the attention of a subdued neighborhood with a combination of light, neon, mirrors and color. Curved yellow screens separate functional areas or create a unique ceiling landscape, while a transparent acrylic structure above the counter responds to the cold presence of metal with an ethereal vibe. Its appearance changes during the day and depending on the viewing angle, with pastel colors that create a rainbow-like feel and dominate the store.
Photo: Dmitry Chebanenko via interiordesign.net
Going for an elegant traditional look, the Cookiezo dessert store in Saudi Arabia, designed in 2020 by Ahmed Hefnawy and Nouran Hussein, brilliantly succeeds in breathing new life into an otherwise old-fashioned combination of colors. Rust pink and dark green define the curved frames of the display shelves and counters. Plenty of plants bring a festive yet familiar look while moving within the same chromatic scheme.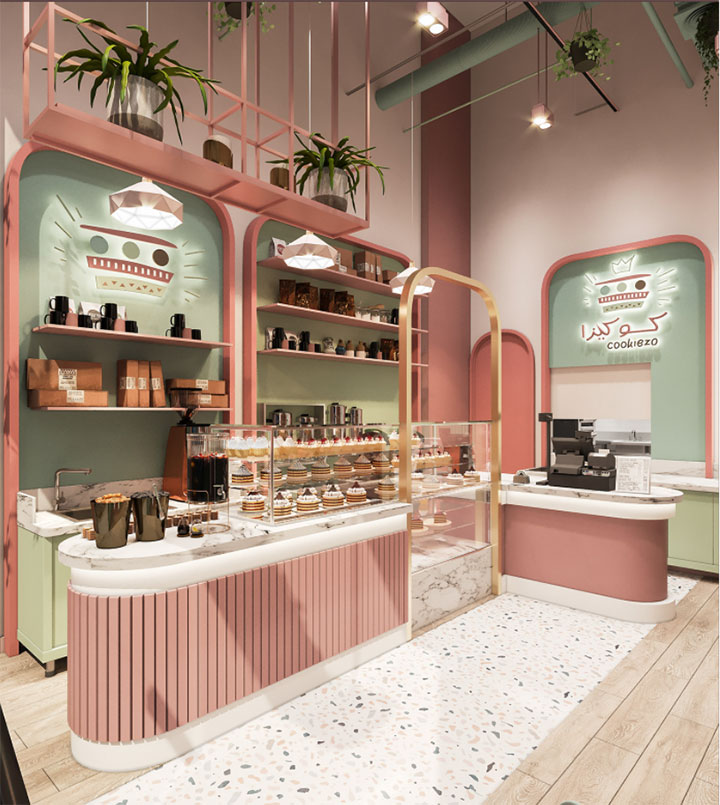 Photo via behance.net
Dreamed up by 4Space Interior Design, The Kava & Chai specialty coffeehouse in the Mall of the Emirates, Dubai, proves that colorful dessert shops can use strong chromatic combinations to appeal to a sophisticated audience. Teal, orange and rich wood tones come together into an elegant and luxurious mix. Globe lights arranged in a series of tube installations have the opulent beauty of a peacock's feathers. Pantone's Living Coral makes an appearance in the chair upholstery and provides a great chromatic response to the dominating teal tones.
Photo via lovethatdesign.com
Small and colorful dessert shops can have an impressive visual impact despite their modest square footage. The Milk Tea & Pearl Boxpark bubble tea store in London is designed by Atelier Y A O and uses a few simple tricks to build interest in a narrow space with not much going for it. Pastel blue timber slats and decorative yellow dots create a beachy ambiance, embrance and define the space and take the eye to the central tea bar.
Photo via retaildesignblog.net
If you are thinking to open a new business or are in the process of rebranding and remodeling your existing business, contact us to get a free consultation from Mindful Design Consulting. Click HERE to price your project design.
Also, take a look at the "Branding By Interior" e-book, the only book written on this subject at this time. It brings insight into how you can turn your business into a market-dominating competitor by using human cognitive responses.
https://mindfuldesignconsulting.com/wp-content/uploads/2022/02/Colorful-Cartoon-Wall-Graphics-Boba-Tea-Shop.jpg
480
720
M T
https://mindfuldesignconsulting.com/wp-content/uploads/2015/07/mindful-design-consulting-logo.png
M T
2022-02-16 20:23:06
2022-02-16 20:43:31
Colorful Dessert Shops from Around the World