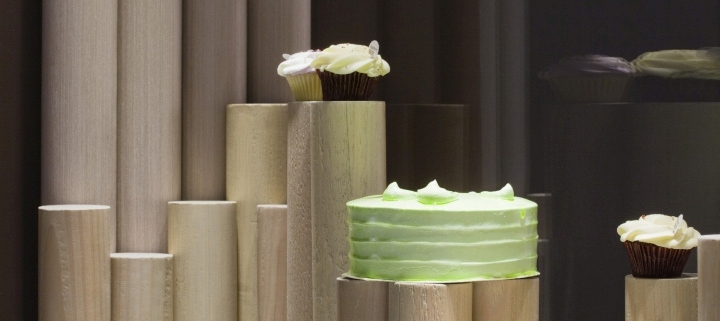 "You eat with your eyes first" never sounds truer than when you step into a colorful dessert shop. When colors, textures and details suggests as many flavors, half the work of convincing customers to linger, buy and come back is done. If the store sells cupcakes, the most versatile dessert out there when it comes to decorating, the designer's work is a lot of fun. Here are a few of our favorite cupcake store designs that celebrate this dainty dessert through unique concepts and decorative elements.
1. The Sweeterie
Cincinnati, Ohio
Designer: Frederick Woods Design
Pink and yellow colors, along with touches of warm hues, come together into a space that evokes delicate fruity flavors and the beauty of cupcakes. The contrast between the pastel-colored stripes and the circular elements makes The Sweeterie's interior stand out and emphasizes every design detail. Layering them works well for a shop whose products' appeal lies in their own layers of beauty. The design incorporates in a clever way structural elements like soffits and half walls, and makes them work together.
Photo via TheSweeterie.com
Photo: Pinterest
Photo via retaildesigns.blogspot.com
Photo via retaildesigns.blogspot.com
Photo via retaildesigns.blogspot.com
2. The Tree Project
Shanghai, China
Designer: Lukstudio
Photos: LOTAN Architectural Photography / Peter Dixie / Christina Luk via retaildesignblog.net
Using the tree as a motif, the creators of this unique shop interior accomplished more than just an eye-catching design. The tree trunk, made of a conglomeration of wooden cylinders, masks the central column and turns it from an eyesore into a plus. The "foliage" of the tree, expanding in waves all across the ceiling is a throwback to the folds and swirls of cupcake icing. Small peepholes in the wood of the trunk remind one of the traces left behind by woodpeckers and are great fun for curious children. The same wooden cylinders serve as display pedestals for the shop's desserts.
The ingenious way in which all these elements are combined makes for a great visual treat that adds to the pleasure of having your dessert in the tree shade.
3. Sugaholic
Dubai, UAE
Photos: Imran Khan via Behance.net
When it comes to cupcake store designs, pastel colors seem to be the absolute winner. The Sugaholic Cup Cakes shop in Dubai combines soft colors reminiscent of sweet flavors with a playful design that mixes details belonging to different styles. Greek columns, decorative wall moldings, a porch swing as a sitting option, traditional pedestal tables, upholstered chairs, outdoor chairs, recessed lights and candle-style chandeliers, all come together under the common denominator of a well-chosen color scheme.
4. Sugarbaby's
Houston, Texas
In Houston, Sugarbaby's decadent interior unleashes the power of detail and vows with its creativity. The look is over the top, with more than just a touch of French charm. Upon entering, customers step into another world, where each corner awaits to be discovered. Black-and-white checkeredboard floors, pink walls and ceilings, plenty of wall decor, a vintage sideboard and heavy ornamented candle holders create a space where customers want to linger and dream.
Photo by by ashkani on flickr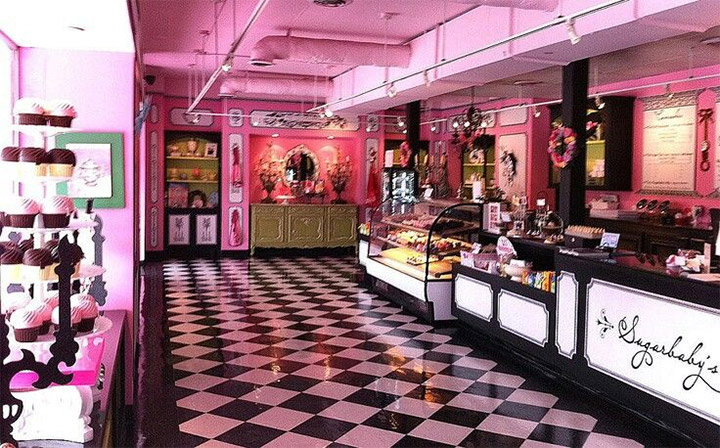 5. Agnes Cupcakes
Copenhagen, Denmark
Designer: Johannes Torpe Studios
Photos via Johannes Torpe Studios
Surprisingly, a minimalist concept can be the ticket to creating cupcake store designs that look sophisticated and exclusive. Agnes Cupcakes in Copenhagen proves this by using high quality materials such as walnut, bamboo and marble and balancing looks and texture by bringing together "warm" and "cold" materials. Polished-marble walls, aluminum and glass create a background against which the warmth of the wood and the elegance of the counter takes over. This apparently simple interior allows the cupcakes to play the central role and become themselves elements of design.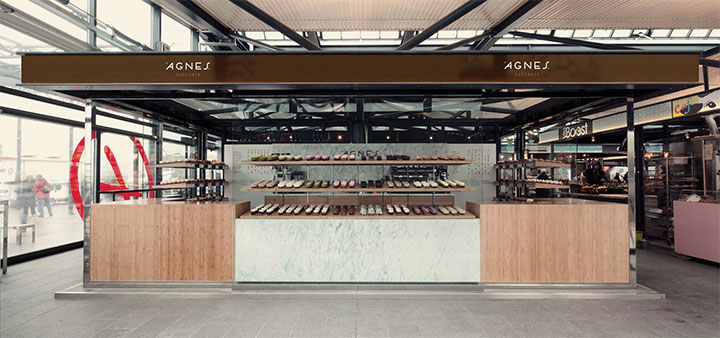 If you are thinking to open a new business or are in the process of rebranding and remodeling your existing business, contact us to get a free consultation from Mindful Design Consulting. Click HERE to price your project design.
Also, take a look at "Branding By Interior" e-book, the only book written on this subject at this time. It brings insight on how you can turn your business into a market-dominating competitor by using human cognitive responses.
https://mindfuldesignconsulting.com/wp-content/uploads/2020/10/Unique-Wood-Shelves-Cupcake-Interior-Design.jpg
960
720
M T
https://mindfuldesignconsulting.com/wp-content/uploads/2015/07/mindful-design-consulting-logo.png
M T
2020-10-14 20:58:30
2020-10-14 21:05:39
Cupcake Store Designs That Open Your Appetite