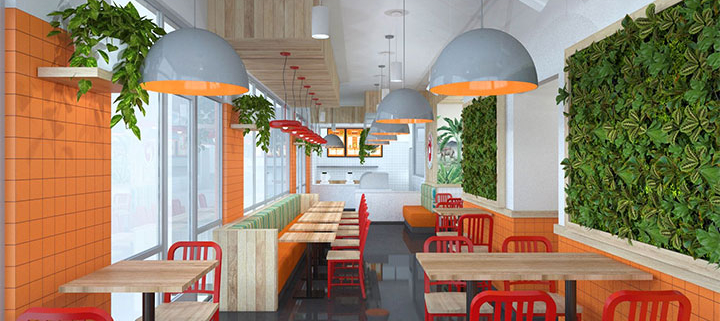 Fusion restaurant design: Mindful Design Consulting
All photos: Mindful Design Consulting
Curry Fusion is a restaurant in Texas that brings together elements and dishes from different cultures into flavorful culinary creations. The flavor and warmth of these dishes inspired us to create a restaurant interior that is a visual expression of these two attributes. We also designed the restaurant's logo and overall branding.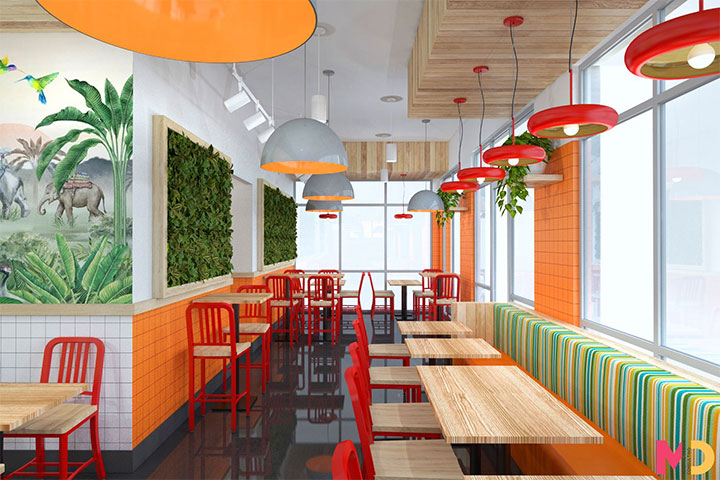 The space was long and narrow, so we tried to avoid the risk of having the interior reveal itself entirely at first sight. Instead, we created a space that asks to be discovered little by little, with details that are tied to each other, yet are different enough to engage customers' attention and curiosity. Plants were one of these elements that reappear in different ways along the length of the restaurant, first as green walls, then as potted plants resting on high shelves, and finally as a wallpaper of luxuriant design.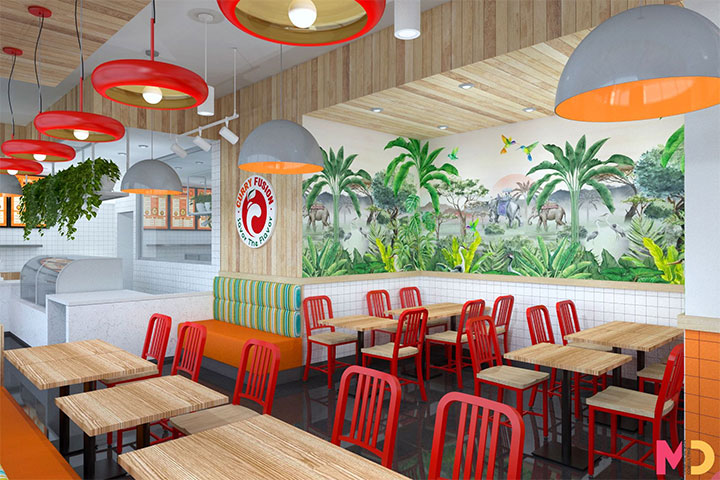 For this fusion restaurant design, we chose warm colors such as orange and red as a visual prelude to the hot flavors of the food. We layered these with a cedar board wall finish whose neutral tones are repeated in the surface of the pedestal tables. This balanced combination gives the interior the needed color, but doesn't overwhelm the eye. The bright orange takes over the walls in the form of solid-color wall tiles, but their stretch is interrupted every now and then by large windows with white window frames and by white wall tiles that tone them down.
The narrow interior is deceiving, however. Across the corridor from the windows, the space is getting larger and a set of tables creates a new dining section in a recessed area. Surrounded on three sides by walls covered in a tropical-theme wallpaper with luscious vegetation, this more secluded yet well-lit seating area gives customers lots to discover in the design of the wallpaper.
Its blue, green and yellow tones are captured again in the stripes of the upholstered benches that serve as another seating option or a place where customers can wait to be seated. All thee are anchored by the dark gray floors and balanced by the all-white front desk.
The lighting combination is one that we love using: Track ligthing to emphasize elements such as the green walls or the logo, recessed lighting to illuminate the darker areas, and light pendants to give contour, color and shape to the ceiling.
If you are thinking to open a new business or are in the process of rebranding and remodeling your existing business, contact us to get a free consultation from Mindful Design Consulting. Click HERE to price your project design.
Also, take a look at the "Branding By Interior" e-book, the only book written on this subject at this time. It brings insight into how you can turn your business into a market-dominating competitor by using human cognitive responses.
https://mindfuldesignconsulting.com/wp-content/uploads/2022/11/Earthy-Colors-Contemporary-Restaurant-Design.jpg
480
720
M T
https://mindfuldesignconsulting.com/wp-content/uploads/2015/07/mindful-design-consulting-logo.png
M T
2022-11-16 22:52:34
2022-11-16 22:55:26
Green Walls Meet Tropical Wallpaper in Fusion Restaurant Design