One of the easiest ways to encourage your customers to take out their phones and share pictures of your restaurant is to provide them with a flashy mural against which they can immortalize themeselves. Creating a social media wall with easy-to-apply wallpaper is a perfect solution when considering your artistic options. Given the impressive selection out there, you can always find the wallpaper that suits your restaurant, theme, ambience or purpose.
Photo above: Tasty Donuts Removable Wallpaper by Apple Home Design Art on Etsy
The secret for a successful social media wall is to go big. Daring, unapologetic wall murals almost demand attention, so a customer with an eye for visual effect will feel compelled to use this photo opportunity. Also keep in mind that customization is an option that allows you to be unique. Including your logo ensures that those viewing the pictures are able to identify and locate you. Adding a message will do the talking for your customers and will turn your interior into an effortless way of communicating with friends and followers.
So what types of wallpaper could you use when attempting to put together an appealing social media wall?
Food
Since you run a restaurant business, celebrating your signature food through your wall art is the most obvious use for an empty wall. Aside from the fact that your customers first eat with their eyes, an oversized version of your menu items will open their appetite and the curiosity of those who see your pictures. This also makes it uneccesary for you to go on the hunt for additional restaurant themes.
Don't forget to include a message that can act as a subliminal call to potential customers to try your products.
Coffee Wall Mural by Lotus Wallpaper on Etsy
Celebrating your food may mean emphasizing what makes you unique, highlighting your ethnic theme or summerizing your cooking philosophy in one picture. For example, are you running an Italian restaurant? Shout it from the rooftops. A 3D oversized-pasta wallpaper appeals to both carb aficionados and Instagram enthusiasts.
Spaghetti Wallpaper by WallMuralPro on Etsy
If you're going for maximum visual impact, remember that strong contrast and vibrant colors are your ticket.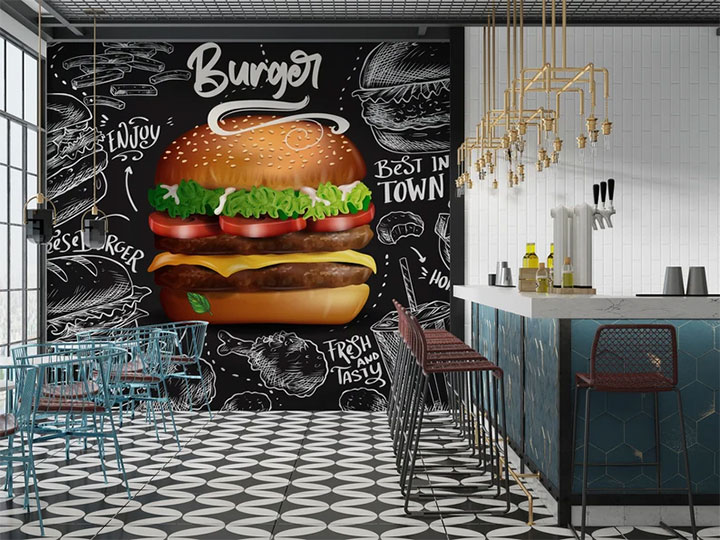 Customizable Fast Food Restaurant Wallpaper by Lotus Wallpaper on Etsy
Your high-impact wall mural doesn't have to be busy to be efficient. Leave the visual impact to one strong bright color, and keep an empty area in a corner. This will appeal to your customers' desire to "finish off" the wall art and insert themselves into the picture as the missing element.
Tasty Donuts Removable Wallpaper by Apple Home Design Art on Etsy
Restaurant theme
Defining your restaurant theme is an important part in designing your brand. Illustrating your theme with an impactful wallpaper is both the perfect way to announce it and a good starting point in choosing other elements of design. In addition, it can also serve as a social media wall and work overtime in spreading the word about your business.
Vintage Motorcycle Wall Art by evidecom on Etsy
Action
Instagram enthusiasts are generally people in love with the world and with capturing it in pictures. Chances are they are also love action, so offer them some. A dynamic 3D mural that allows them to be part of some imagined adventure is a great opportunity for both laughs and pictures.
Broken Wall and Elephant Wallpaper by MuralOnly on Etsy
3D illusion
In the same line of reasoning, creating the illusion of 3D objects or creatures protruding from the wall always gets the attention of the 2D-world enthusiasts. Inserting themselves into the story becomes almost a necessity and an awesome occasion to improvise and have fun.
Woman Faces Mural by WallpaperMS on Etsy
Nature
People want to be transported from their everyday lives to a place where daily worries cannot reach. Nature is the best refuge, so bring it in with a life-size work of art that can help them create the illusion. Often, this has the fortunate effect of providing you with an easily achieved social media presence.
Fantasy Enchanted Magical Forest Wallpaper by MuralWallDecor on Etsy
Cityscape
The same goes for city views. Aside from creating the impression that your customers have been transported to another place, citiscapes make for a natural-looking photo background. When artistically rendered, they create a magic world that everyone wants to experience.
Vintage Colorful City View Wall Mural by Omnic Wall on Etsy
Collage
If you're rather on the indecisive side and are not sure what high-impact graphics to use, choose a collage. Your theme can be anything – recipes, pop art, even photos of your past customers.
Pop Art Faces Wallpaper by WallArt LA on Etsy
Newspaper or magazine extracts come with the additional benefit of creating another kind of interest and raising your customers' curiosity.
Vintage Journal Wallpaper by PerWakWallArt on Etsy
Graffiti
Recreating an outdoor look inside your restaurant and taking advantage of all artistic options out there can give you a modern edge. Graffiti art is colorful and informal, which translates into a both energizing and relaxing ambience, a mix difficult to achieve. For the same reason, a graffiti wall can be an excellent social media opportunity.
Graffiti Wallpaper by Murals Only on Etsy
Inspirational quotes
Regardless of what you think about script art, inspirational quotes seem to only get better when done on a large scale. If you are into giving pep talks, make it short, flamboyant and unambiguous with a great wallpaper.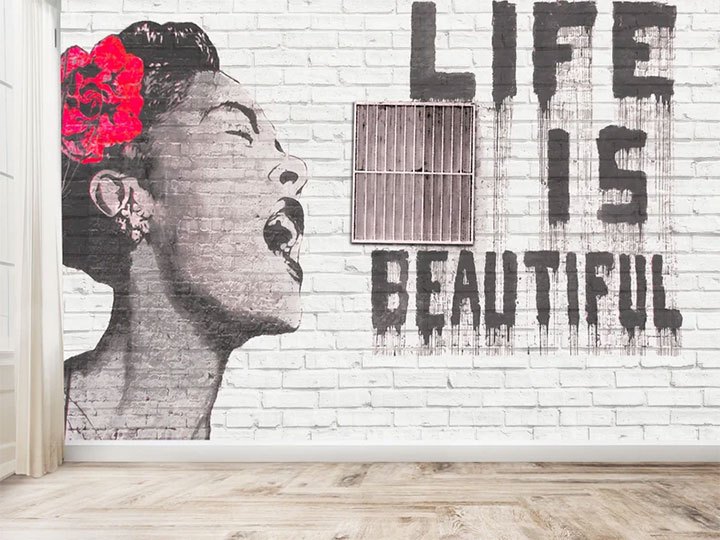 Street Art Wallpaper by UpGreat on Etsy
Well-known quotes accompanied by well-known faces are a great camera magnet, especially when they allow your customers to play a role in the picture.
The Godfather Wallpaper by DekoDepot on Etsy
Script
If you have a message, write it on the walls. If you have a product that you're proud of, do the same. If you have a theme, make it known. The simple, humble script is the easiest way to literally make a statement. With fonts and script art that offers you limitless ways to beautify your message, script wallpapers are an option that you shouldn't overlook.
Bar Background Wallpaper by Alaxus on Etsy
If you are thinking to open a new business or are in the process of rebranding and remodeling your existing business, contact us to get a free consultation from Mindful Design Consulting. Click HERE to price your project design.
Also, take a look at the "Branding By Interior" e-book, the only book written on this subject at this time. It brings insight into how you can turn your business into a market-dominating competitor by using human cognitive responses.
https://mindfuldesignconsulting.com/wp-content/uploads/2022/10/Donut-Social-Media-Wall-for-Dessert-Shop-Interior.jpg
480
720
M T
https://mindfuldesignconsulting.com/wp-content/uploads/2015/07/mindful-design-consulting-logo.png
M T
2022-10-19 14:45:20
2022-10-20 05:58:13
High-Impact Murals for Your Restaurant's Social Media Wall