Teaching kids to appreciate good food is best done in a beautiful environment where all senses are engaged. At least this is what Yummy, a kids restaurant in Ivano-Frankivsk, Ukraine, seems to convey. Brought to life by the Ukraine-based VYMIR Design Studio, Yummy is a place for both children and adults to enjoy the good in life through delicious dishes, beautiful colors and lots of fun. Avoiding the typical strident color combinations that are often used in places built for children, this kids restaurant design is clean and elegant while fun and intriguing.
The first thing a new customers notices when entering the restaurant in a masterful use of color. A blue-and-yellow chromatic palette is set against a refreshing and light neutral background that makes it pop. The dripping design of the counter calls to mind images of honey and all the sweet thoughts that one may associate with it. It also turns the front counter into the focal point of the interior, while tying it with other intriguing yellow accents througout the store.
One of these, a series of tightly stretched yellow ropes attached to the ceiling, proves that ingenuity has no bounds when finding solutions to design problems. The ropes separate two different areas without using bulky materials, going into complicated construction work, or closing in the space,
Large windows combined with reflective floor treatments and lots of white bring in plenty of light and turn the space into a happy, fresh and relaxing venue. Even the light wood tones retain this cheerful attribute. Dark colors are scarce, while pastels mix with rich tones for a visually engaging effect. The softly curved window frames give the interior a unique look, despite the simple furniture and the white walls.
The play area is cleverly separated by a combination of storage cubes and large nets. This solve a series of problems, from storing toys to clearly defining the area, and from allowing parents to watch their children to giving kids something to explore. The circle motif illustrated in the shape of the tables, light pendants and wall accents reappears in the upholstered nook where children can sit, read or rest.
A simple arched entrance ties in with the colorful patterns of the wall and the scalloped awning of the kids' kiosk. A finished wooden zeppelin assembly toy hangs from the ceiling, giving the play area the finishing touch similar to that provided by a sophisticated light pendant.
The entrance is a fitting introduction to this light, airy and sunny kids restaurant design. An oblique line pattern evokes the rays of the sun and provides only a minimum amount of privacy, so that passers-by can get a taste of what awaits inside.
Bold colors, fun patterns, lots of light and a few ingenious ideas that solve space issues seem to be the winning formula used by Yummy to attract all ages and to teach kids to appreciate high quality food.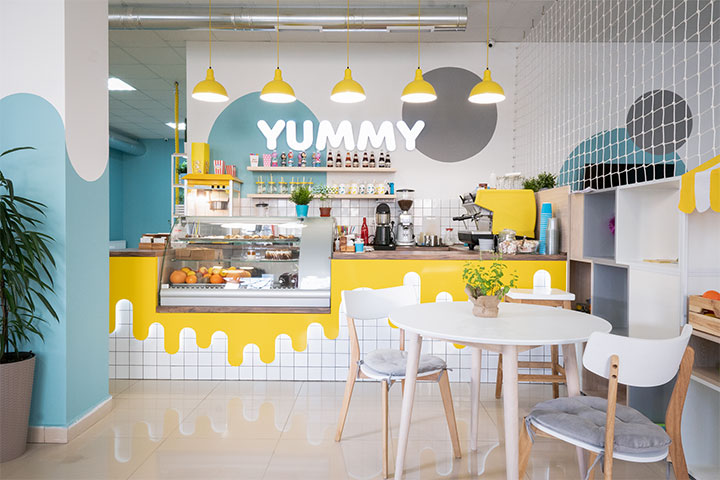 Via behance.net
Designer: VYMIR Design Studio
All photos via behance.net
If you are thinking to open a new business or are in the process of rebranding and remodeling your existing business, contact us to get a free consultation from Mindful Design Consulting. Click HERE to price your project design.
Also, take a look at "Branding By Interior" e-book, the only book written on this subject at this time. It brings insight on how you can turn your business into a market-dominating competitor by using human cognitive responses.
https://mindfuldesignconsulting.com/wp-content/uploads/2021/11/Blue-and-Yellow-Kids-Restaurant-Design.jpg
480
720
M T
https://mindfuldesignconsulting.com/wp-content/uploads/2015/07/mindful-design-consulting-logo.png
M T
2021-11-03 22:33:57
2021-11-03 22:42:54
Kids Restaurant Design Uses Fun Concept to Attract All Ages