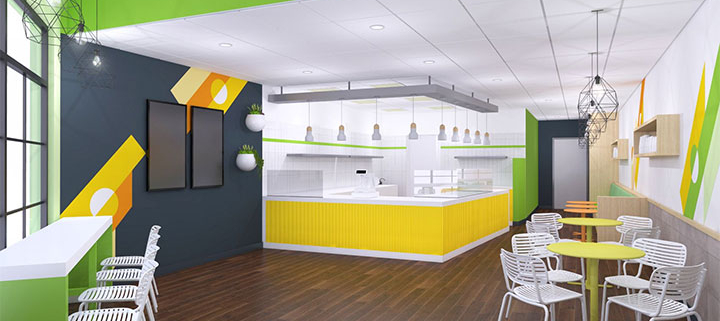 Located in beautiful La Jolla, California, with its spectacular rugged coastline and vast ocean views, The 20 Boba Tea shop has everything going for it to become a cool hotspot for friends who want to catch up over a delicious treat. To be in tune with the happy vibes of its location, we came up with a fun and invigorating boba tea store design that refreshes the eye and prepares the tastebuds for the happy encounter with the popular drink.
We opted for a bright and energizing color palette of yellow, orange and green that evokes the flavors and freshness of fruits. While these strong tones have the ability to take over a space, we alternated them with vast expanses of white and with neutral shades. This makes the interior appears light, airy and relaxing.
Black accent walls anchor the whole design, give it visual stability and offer an excellent background for an oversized display of the store logo.
Simple geometrical wall accents make use of paint for a budget-friendly but effective visual solution. The graphics incorporate circles that call to mind the tapioca pearls at the bottom of every bubble tea drink. The same circles make an appearance in the shape of the pedestal tables and the white plant containers that take them into 3-D territory.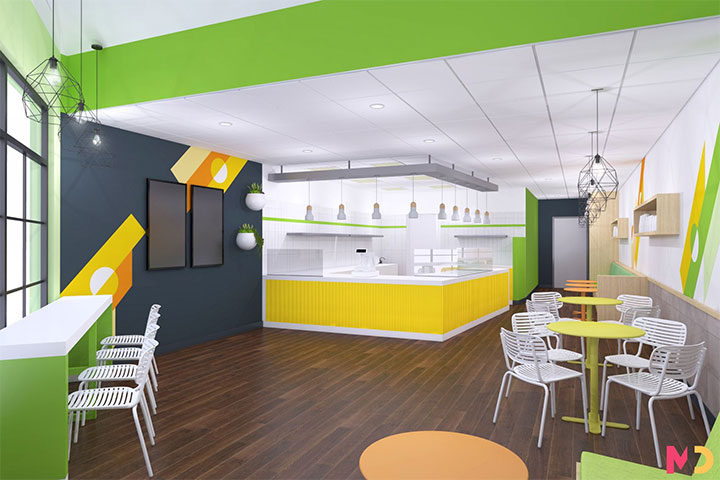 The presence of blond-colored wood brings in a modern-spa kind of visual calm. Next to the strong-willed back-lit yellow counter and the lime-green soffits, walls, furniture and upholstery, these occasional touches look subtle, but powerful. Custom plywood bench and chair frames make for a unique addition to the white collection of easy-to-maintain chairs. Simple open shelves built of the same plywood are the only accents needed to fill in the white walls.
We chose a combination of black metallic light fixtures with cage-shaped shades and simple pendants that we lined on a stainless-steel soffit above the counter to emphasize its shape. Their light construction keeps this boba tea store design modern and uncrowded. Recessed lights provide generous illumination and help augment the light that bounces off the quartz counter top and the white walls and furniture. Wood floors and gray wall tiles provide the needed texture variation while remaining in a neutral zone that allow the bright colors to be the main actors.
The 20 Boba Tea store will open this winter at 915 Pearl St., LaJolla, Califonia 92037.
If you are thinking to open a new business or are in the process of rebranding and remodeling your existing business, contact us to get a free consultation from Mindful Design Consulting. Click HERE to price your project design.
Also, take a look at "Branding By Interior" e-book, the only book written on this subject at this time. It brings insight on how you can turn your business into a market-dominating competitor by using human cognitive responses.
https://mindfuldesignconsulting.com/wp-content/uploads/2021/09/Fresh-Looking-Boba-Tea-Store-Design.jpg
480
720
M T
https://mindfuldesignconsulting.com/wp-content/uploads/2015/07/mindful-design-consulting-logo.png
M T
2021-09-15 23:36:36
2021-09-15 23:56:37
The 20 Boba Tea Store Design by Mindful Design Consulting Is Bright and Fresh