Drivers on one of the busiest highway in Guatemala City are teased by the solid-red facade of a building that raises above the others, and by the "flying" cars seemingly colliding with the imposing structure. While this may be in itself a sight to behold, those curious enough to stop and enter are soon to discover an equally fascinating interior and a unique cafe design worthy of a visit.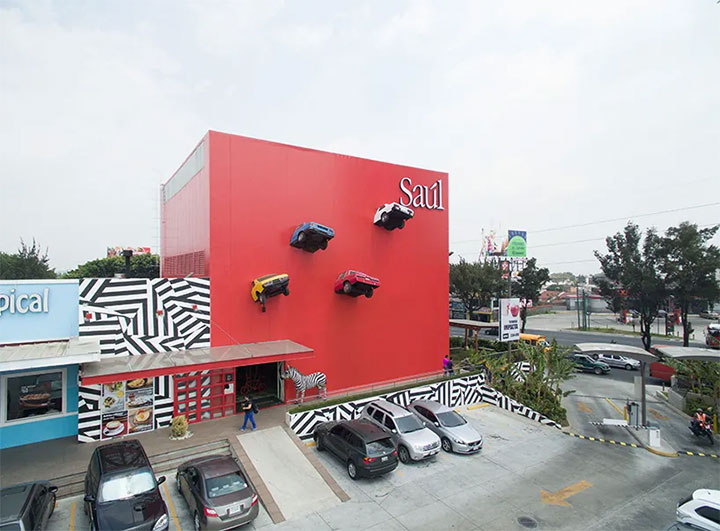 Designed by Taller KEN, a New York and Guatemala-based architecture firm, Madero Cafe draws its inspiration from the look and workings of a greenhouse. Bringing together plants, light and a watering system, the cafe seems to take the concept seriously. The interior bursts with color inspired by its tropical theme. The refreshing shades of green brought in by the plant's foliage, the colorful furniture, the quirky upholstery, the large watwer containers, and the car that serves as an impromptu plant pot combine into a playful chromatic mix.
The open-air sawtooth skylights provide generous daylight and give customers the pleasant feel of an ample and airy space. Rainwater from the roof is collected into five large watertanks and used to water this indoor tropical forest. Vintage cars take the theme of the facade indoors.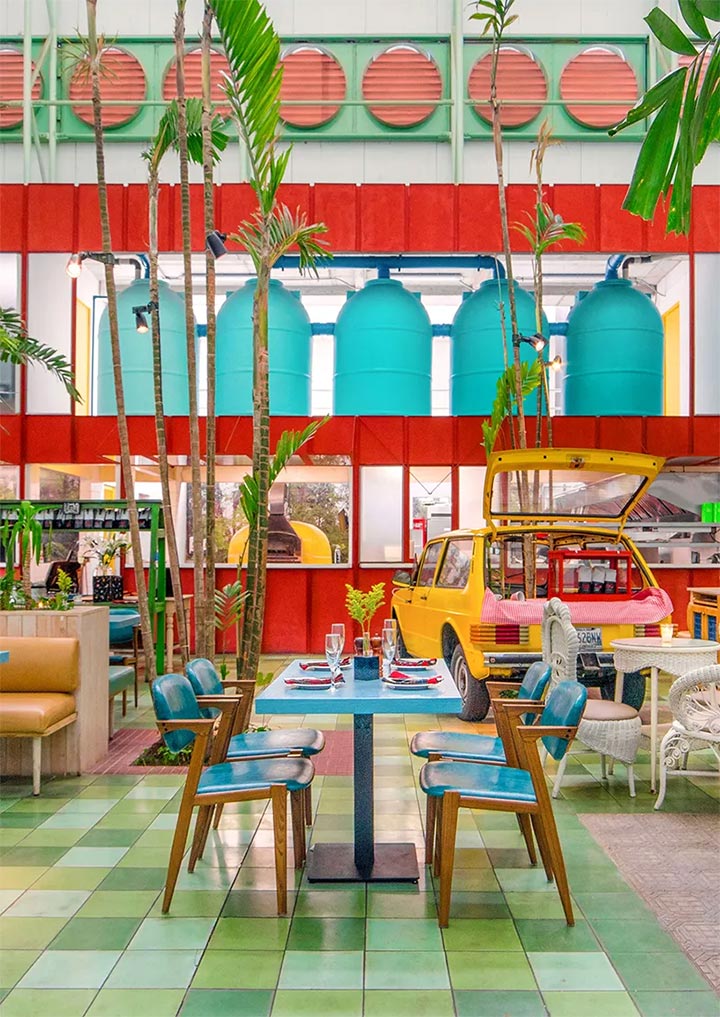 Different types of seating options acommodate different needs or preferences, with three semi-circular nooks providing more substantial privacy. Above each of these nooks, huge chandeliers dressed in flowing greenery create a spectacular view.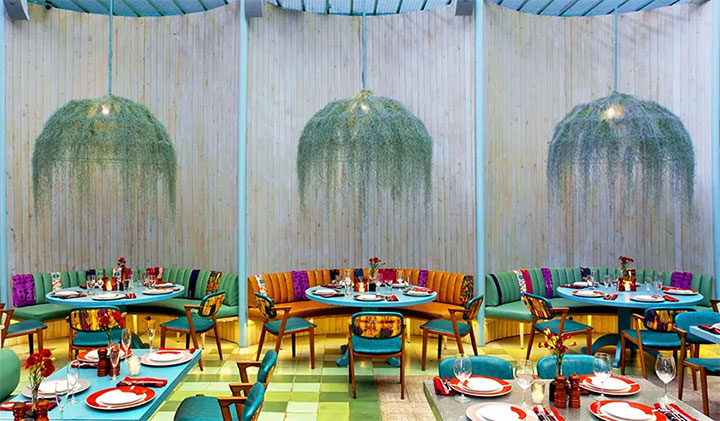 Custom-made concrete tiles in colorful shades create an ingenious mosaic with artistic virtues, but also with a clear functional role. The colors define the different areas of the coffee shop and tease customers into exploring all its corners.
Making use of local materials and allowing itself to be influenced by local themes and colors, this unique cafe design refuses to fit the mold and offers a memorable experience to those who visit.
Designer: Taller KEN
Via designboom.com
All photos: Marcelo Gutierrez via designboom.com
If you are thinking to open a new business or are in the process of rebranding and remodeling your existing business, contact us to get a free consultation from Mindful Design Consulting. Click HERE to price your project design.
Also, take a look at "Branding By Interior" e-book, the only book written on this subject at this time. It brings insight on how you can turn your business into a market-dominating competitor by using human cognitive responses.
https://mindfuldesignconsulting.com/wp-content/uploads/2021/10/Cafe-Interior-DEsign-Inspired-by-Greenhouse.jpg
260
720
M T
https://mindfuldesignconsulting.com/wp-content/uploads/2015/07/mindful-design-consulting-logo.png
M T
2021-10-20 20:22:18
2021-10-20 20:37:00
Unique Cafe Design Adopts Greenhouse Concept